Credits
The Children's Hymn Choir, June 2015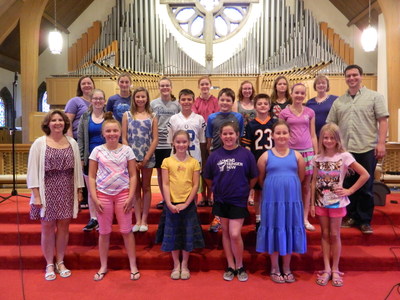 Heather Metzger, age 8
Mary Jetmore, age 9
Grace Stewart, age 9
Mallory Bolser, age 10
Eden Judd, age 10
Ben Schweitzer, age 10
Mirabella Troncoso, age 10
Kirsten Urich, age 10
Graham Milligan, age 11
Luke Schweitzer, age 12
Madeline Stults, age 12
Grace Blakely, age 13
Annetta Itnyre, age 13
Heidi Metzger, age 13
Natalie Milligan, age 13
Natalie Pegg, age 13
Alexa Turner, age 15
Director: Jessica Raposo
Piano: Caryl Bailey
Recording engineer: Chris Robinson
Solo and Duet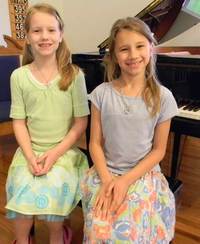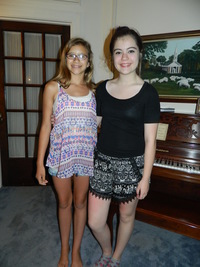 From left: Madelyn, Annetta; Annetta, Lydia.
Solo: Annetta Itnyre, ages 8-11
Duets "Jesus bids of shine" and "Gentle Jesus, meek and mild": Madelyn Brunton and Annetta Itnyre, age 8
Other Duets: Lydia Shively and Annetta Itnyre, ages 15 and 13
Piano: Caryl Bailey
Technical
Web development: Gregory Weber
Support
Alisa and Jessica would like to thank Dr. Jay Barbre, Interim Associate Vice-Chancellor of Academic Affairs, and his committee, for awarding us a Summer Faculty Fellowship to support the camp; Dr. Jason Troutwine, Vice-Chancellor of External Affairs for granting us webspace; Dr. Ross Alexander, Dean of Humanities and Social Sciences, for support of the entire project; and, finally, Central United Methodist Church who allowed us use of their sanctuary for our hymn camp.
---
All voices and pictures of children are used with parental permission.