Real talk
Along everyone's journey in life, people are searching for love. Being gay is not a choice. Living a lie to appease others is.

Melissa Stover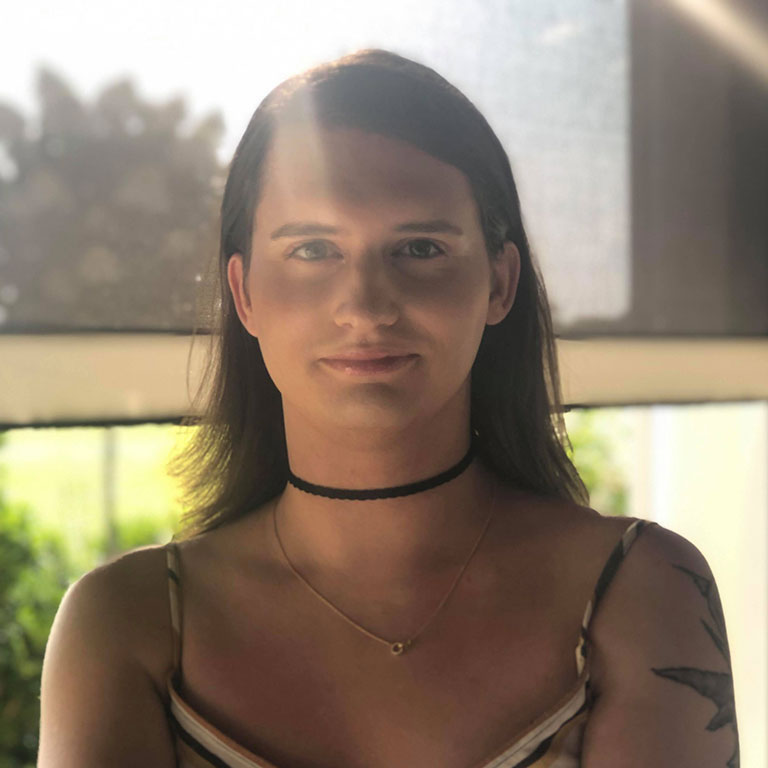 We're human just like you. We are people who deserve respect and deserve to be treated with decency.

Shore Grae Crawford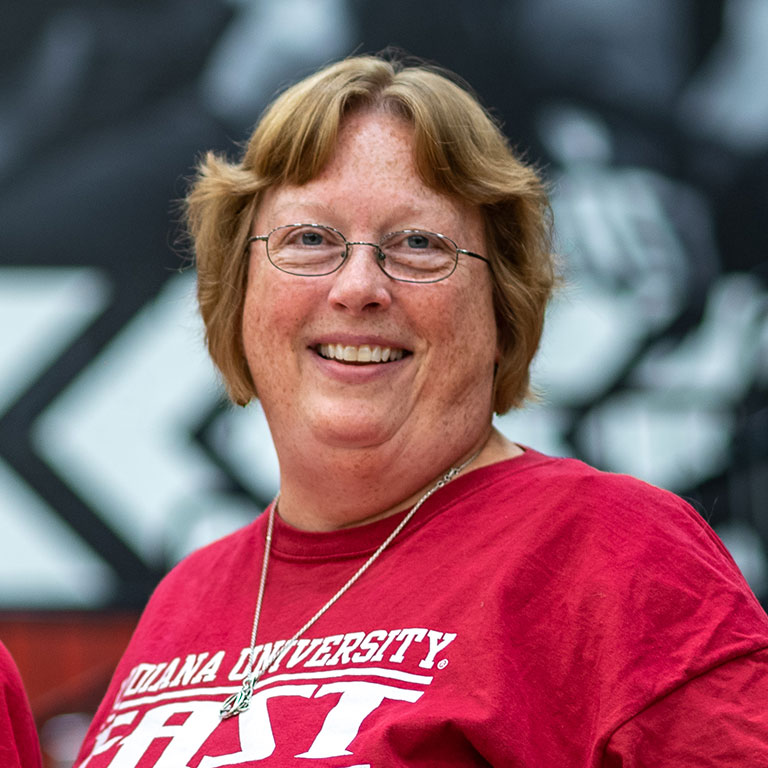 We're no different than anybody else. Our heart beats the same. We love who we love.

Melissa Blankenship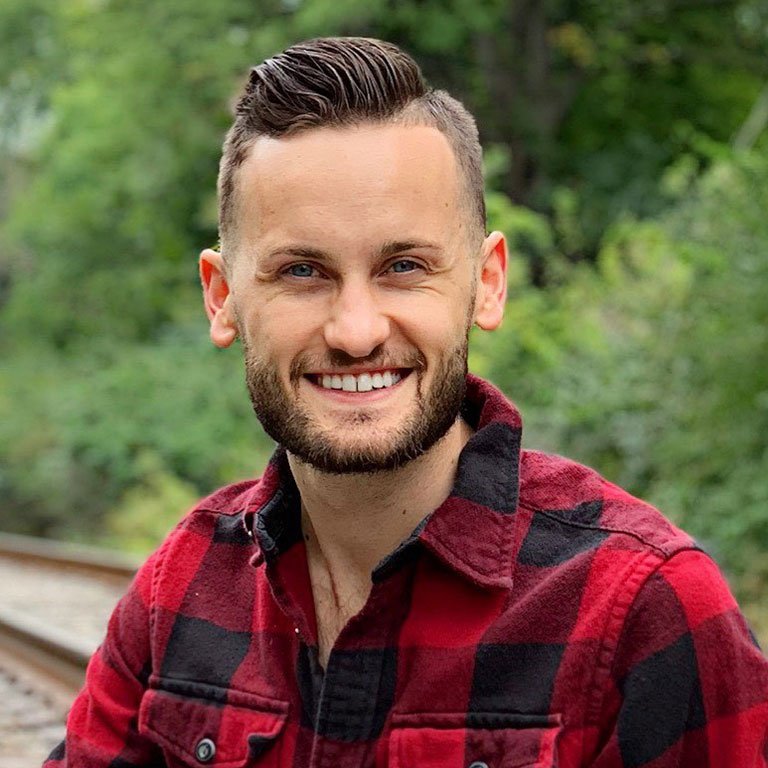 IU East was the first place where I truly was able to be myself and embody being the gay male that I am. I was embraced and empowered by so many faculty members and was encouraged to be unapologetically me.

Cody Henning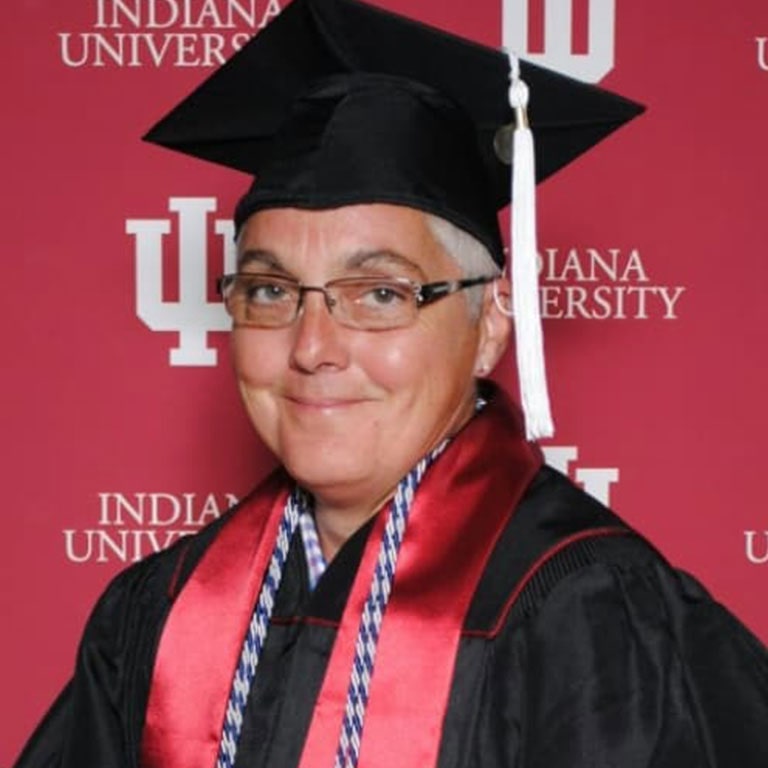 My sexuality is not necessarily the defining factor of who I am, it's just a part of who I am.

Jeanette McFarland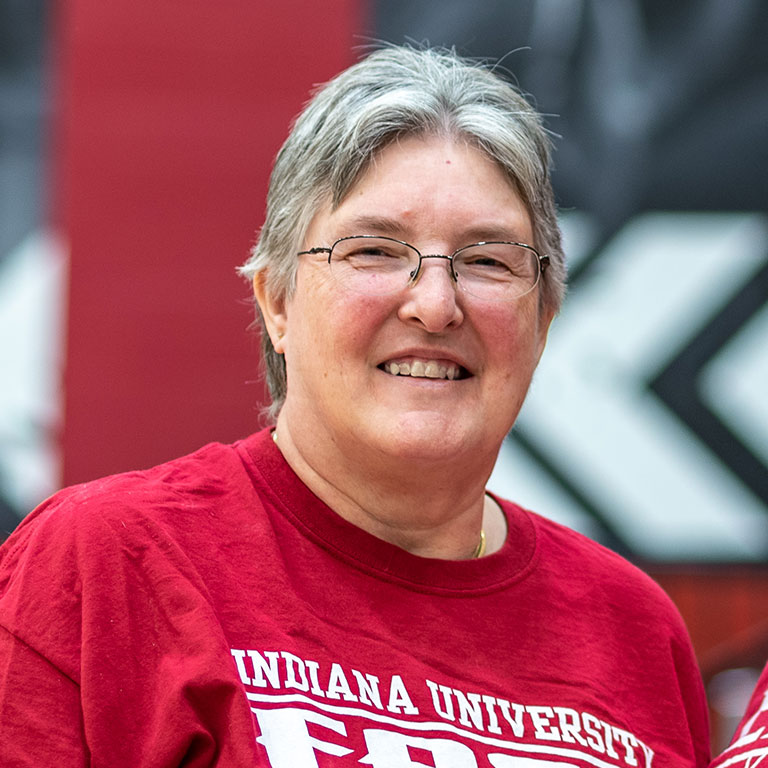 I wouldn't have to hide an important aspect of my life and that was really important to me. I wouldn't have taken the job here if I had felt that this was not an accepting campus.

Denise Bullock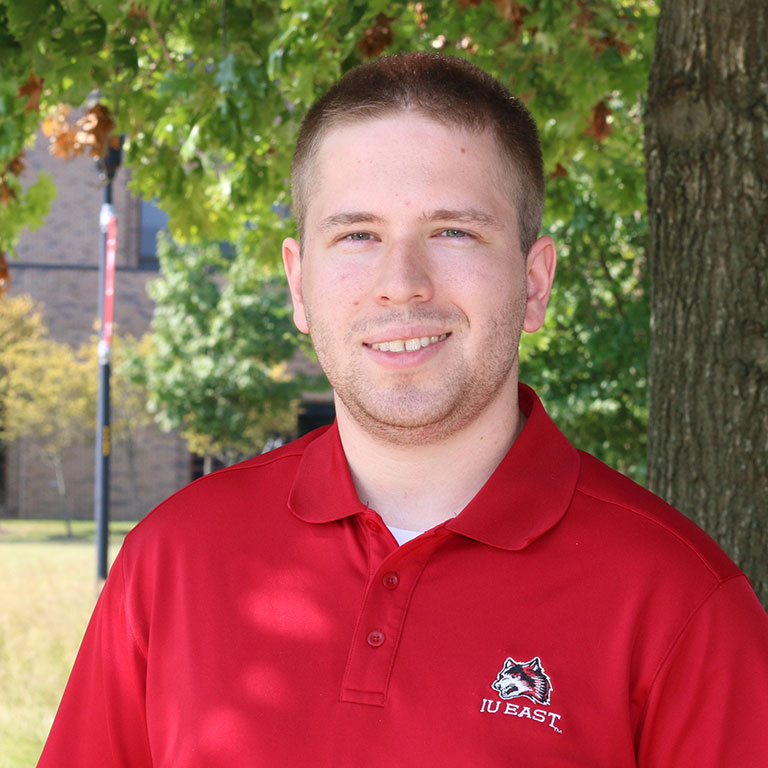 It took me awhile to realize who I was, to accept it and to come to terms with it. It just took time.

Cole Lane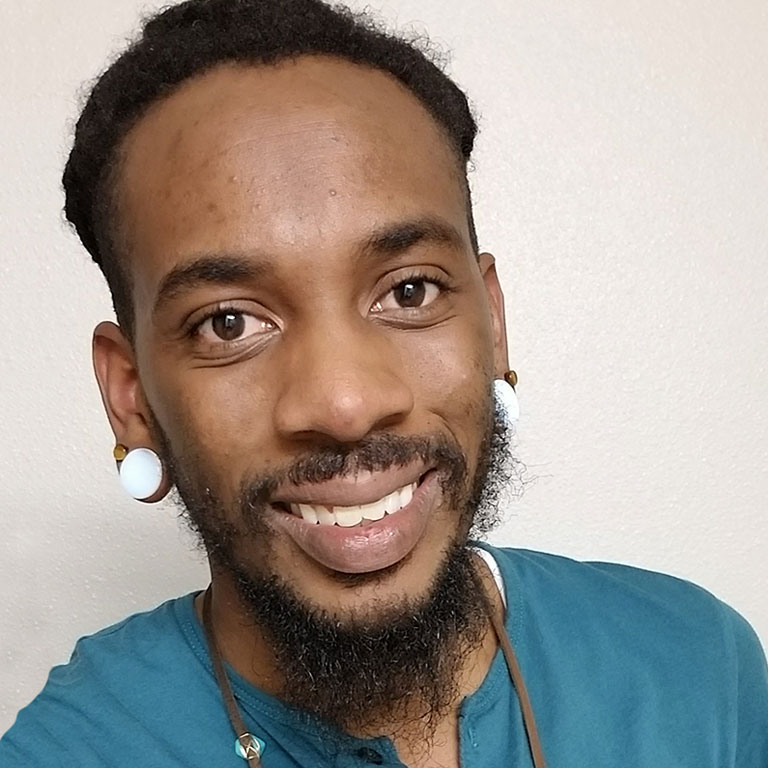 People lose sight that we are just all part of one race, and that is the human race. We are all one.

Trevor Jones
Where we were.
1988
One night in 1988 Denise Bullock overheard a conversation after choir practice.
Another member, Melissa Blankenship, was talking about a dance for women that she wanted to attend.
Both knew the other through a mutual friend and belonged to the same women's choir in Houston, Texas, but they did not know each other well.
A moment later, Bullock would take the initiative to ask Blankenship if she could take her to the dance.
Thirty-one years later, Blankenship shared the fateful moment on her Facebook page:
After practice one night I spoke out loud of my interest in going to this dance, hoping that another woman with whom I wanted to be friends would ask me. Moments later, Denise bent down to me and asked me if I wanted to go with her, I panicked. So, I quipped back, "Can I think about it?"
She sighed, dropped her gaze for a moment and said, "Sure." It was clear to me that this caused her pain. She walked back to a cluster of women behind me.
I felt bad, then decided that I could put up with one night of the less-than-ideal. I couldn't live with the idea that I had hurt someone's feelings.
Less than a minute later I went back to her and said yes.
Before the dance they went to dinner at Baba Yega's in Montrose.
They got to know each other and found the first impressions they had formed – neither one had liked the other – were off base.
They accepted each other for who they were.
They respected each other.
They became comfortable with each other.
They continued to spend time together.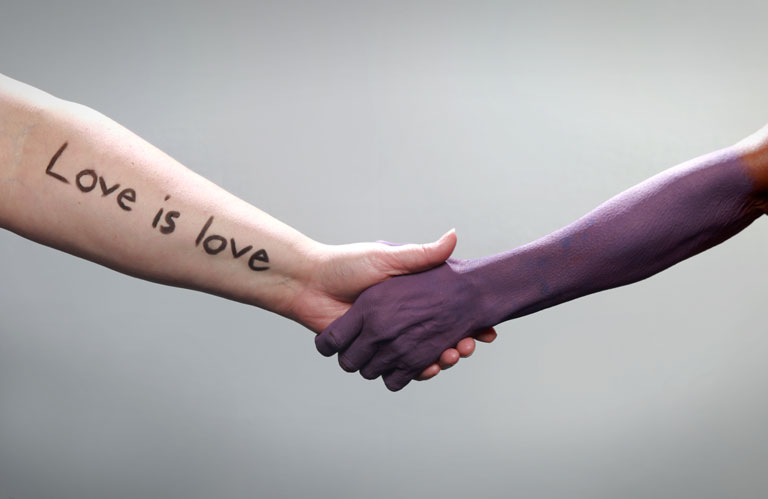 Both were founding members of the women's choir, HeartSong.
"We're singers," Blankenship said. "I'm a soprano, Denise is an alto."
They continued their involvement with HeartSong. In addition to singing, Bullock would also eventually direct the choir.
Heartsong performed at community events including local, state and national gatherings.
"Our choir had a national reputation in the women's community," Blankenship said.
HeartSong performed for charities, organizations and events. They were invited by Ann Richards, the 45th Governor of Texas, to perform with the Gay Men's Chorus of Houston for her inauguration ceremony in 1991. Years before she was elected governor, Richards had gained notoriety as the state treasurer and delivered the keynote address during the 1988 Democratic National Convention.
"She had heard us sing one other time, and then we were invited to sing at the inaugural ceremony," Bullock said. "It was super cool. She was very supportive of the community."
Blankenship was born and raised in southeast Texas.
Bullock moved to the Lone Star state in 1979. She moved there after earning her bachelor's degree in sociology at Central Methodist College, located in her home state of Missouri.
Bullock and Blankenship have a history of serving in the communities where they live. Houston was no exception.
They lived in Houston during the start of the AIDS crisis, when an unknown devastating illness would take hold of the city.
"We were not yet together, but we were there," Blankenship said. "Houston had an active, vibrant LGBTQ community. AIDS sort of devastated the community, so a lot of community leaders, mostly men, died as a result of the illness. So, the entire LGBTQ community had to regroup."
The LGBTQ community found support, assistance and care within its close circle.
"One of the positives that came out of that, prior to the AIDS illness and crisis, the men and women within the gay community were very separate," Bullock said. "Many of the men's bars didn't allow women to come in, some of the women's bars didn't allow men to go in, but when AIDS hit in Houston, women formed support groups to support the men."
The first AIDS case was reported on June 5, 1981, according to the U.S. Centers for Disease Control and Prevention as initially published in the Morbidity and Mortality Weekly Report (MMWR). The report described "five young previously healthy, gay men in Los Angeles" as having a rare lung infection, Pneumocystis carinii pneumonia (PCP). The disease would become more commonly known as Acquired Immunodeficiency Syndrome, or AIDS. It wasn't until 1984 that the virus that causes AIDS, human immunodeficiency virus (HIV), was announced by Health and Human Services Secretary Margaret Heckler.
By December 1988, more than 82,000 cases of AIDS had been reported in the United States and its territories, with over 46,000 of those cases as fatal, according to the Center for Disease Control. Houston shared in the wrenching heartache and devastation of AIDS.
Many found themselves disowned by relatives, relying on partners and friends for assistance and care. Patients were turned away from health care facilities. and funeral homes refused burial.
"We, the community, raised funds for a hospice because the public hospital was not accepting AIDS patients," Bullock said. "And so we, the community, bought an apartment complex and created a hospice center for gay men because the city and the hospitals would not take them."
Blankenship volunteered with an organization, Pet Patrol, providing care for the pets of AIDS patients when they were on hospice. The goal, she said, was to keep the pets in the home. Bullock mentioned working with another group, AssistHers, who helped lesbians with health issues not affiliated with AIDS.
"It was a rough time," Blankenship said.
Bullock said it was a time that the LGBTQ community pulled together.
"Through all the negatives, and all the loss that was devastating, our women's choir was very close to the men's choir. We had performed together, and so many men were dying. It was heartbreaking, but at the same time it really did help to tie us together and to bring a sense of unity to the gay community."
Bullock and Blankenship through the crisis, volunteering, and daily life, continued their relationship.
The next year, they held a private union ceremony in May 1989.
The late 80s were a time of significance.
In 1988 George W. Bush was elected President of the United States. Current President Ronald Reagan waged war on drugs.
World AIDS Day was established in 1988 and continues to be observed every December 1. The NAMES Project AIDS Memorial Quilt was in its second year, taking a 20-city tour before being displayed in Washington, D.C.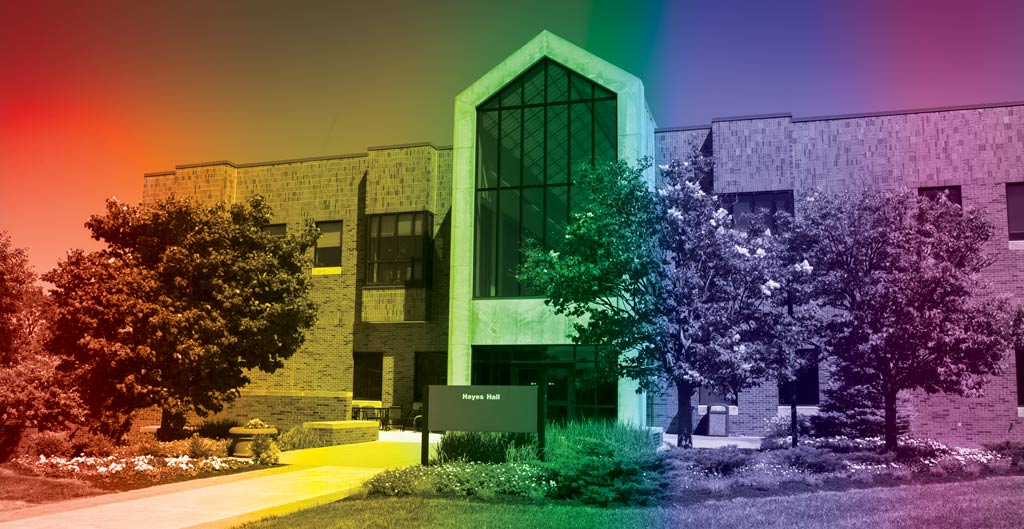 The late 80s were also a time of change for Melissa Stover.
A sudden change of plans brought Stover to Indiana University East for her first year in college. The 1988 Centerville High School graduate was planning on attending another college in the state with a friend.
But an illness in the family swayed her to stay and enroll in college close to home. Her grandmother had breast cancer, and her grandfather asked her to stay and help take care of her for the next year.
She commuted from her home in Centerville to attend classes at the Richmond campus.
"I had no clue what I wanted to study," Stover said. "That's when computers were just going crazy. Like I would get out of a class and I couldn't even sell my textbook because it had changed already. I thought I wanted to be in computer science."
It was also the year Stover started to notice that her attachment to a longtime boyfriend was fading.
"I had had a serious boyfriend, we met when we were 7 years old and then started dating later on," Stover said. "It (relationship) was on and off and on and off … He went off to the Marines and that's when I started realizing that something wasn't right. When he would call and tell me that he loved me, I would be like 'Alright, have a good day.'
"I think I started to realize then that there was something going on," Stover said.
Stover grew up in a family that regularly attended church. She has a strong faith.
Being gay wasn't something that Stover thought she wanted to recognize or acknowledge as part of herself.
"Right after my first year at IU East, my grandmother had a full recovery from breast cancer. I decided that I was going to go to Anderson University because it was a religious college, and if there was any part of me that was feeling gay, it was going to cure it," Stover said.
In 1991, Stover finished her second year at Anderson. The experience, she added, failed because she fell in love with her roommate.
Before she moved back home, Stover had visited her family. She said her dad and sisters sat her down and told her if there was anything that she wanted to tell them, it was OK to do it.
She said her dad asked her if she knew that they realized that she was gay.
"I was just like 'I am not gay.' And my feelings were hurt," Stover said. "So I just didn't deal with it until I enrolled back at IU East."
When Stover returned to IU East, to some degree she had internally accepted that she was gay but that's where it ended.
She said she was one of the lucky ones to have her family's support.
"Even then I was still trying to do the straight role. I hadn't come out to my family," Stover said.
Dealing with being gay came through a friendship that developed with Tom Thomas (1945-2009), who taught fine arts at IU East, and local artist Sontina Reid, who volunteered to work with art students in Thomas' classes through modeling and discussions.
Stover, she said, had always been an artist and found a connection right away with Thomas and Reid.
"They were the two that helped me to become comfortable with myself," Stover said. "It was just that they were so open about everything. They told stories, we talked about the art world, about Andy Worhol, or just whatever. It was a whole different world."
Stover said Reid introduced her to a male couple in Richmond and the first she knew to have AIDS. "I started hanging out with them and coming out more. From there I met a friend of a friend, who started taking me to Indianapolis to gay bars. The bars weren't just to drink or whatever, it was just the way you went out and talked to people. At the time we didn't have cell phones or social media.
That was the way that you went out and met people. I'm glad. I would never want to change that. It was a fun time, actually."
At the time, IU East was still a commuter campus catering primarily to non-traditional aged students who worked fulltime and took classes. Many students only interacted with each other during class. The student-centered events and activities that are readily available now didn't exist then.
"My whole circle on campus was Tom and Sontina," Stover said. "When I went to other classes, it wasn't like I felt it was safe to talk about it (being gay). I didn't really have a girlfriend or significant other at the time, so it wasn't something that I talked about or was open about."
There were many reasons not to talk about being gay.
Being gay was not accepted, based on religious, political or conservative upbringings. Stover notes then that the AIDS epidemic was also partially a reason to hide it. "It was a totally different time then than it is now," she said. 
1992
That was still the case in 1992 when Stover was getting ready to graduate with her Bachelor of Science of General Studies in Liberal Arts degree.
"Believe it or not, 1992 isn't really that long ago if you put it into perspective, but at the same time for gay life it is a long time ago because people today, who can now walk around holding hands or wearing it on their shirts, have no idea. We used to have to hide it, even in 1992," Stover said.
For example, Stover said, Richmond isn't far from Chicago. A three-hour trip to the Windy City would provide a "whole different world" in which she was free to be herself and see LGBTQ representation in public.
"In Richmond, we were living a secret," Stover said. "We'd get in the car and drive to Chicago. They had their own street, Halsted Street, and you'd look up at the street light and it'd have a huge banner of a cruise with two men on it, and just three hours back home you just wouldn't even talk about it."
Toward the end of the 90s, the need for secrets was changing.
By 1997 NASA landed the Mars Pathfinder; Princess Diana was killed in a car crash in Paris; and Mother Theresa died one week later. Madeline Albright became the first female to serve as the U.S. Secretary of State. Dolly the sheep was cloned.
And Ellen came out.
The "Puppy Episode" appeared on April 30, 1997 on ABC. Ellen DeGeneres played the lead character, Ellen Morgan, on the sitcom. In the episode, Ellen reveals her feelings to friend and love interest, Susan. Controversy and backlash surrounded the groundbreaking episode. But so did acceptance, and the LGBTQ community could see a representation of themselves through the first gay lead on a sitcom.
"It may be cliché but it started with Ellen," Stover said. "When Ellen came out on tv she was shunned, she went into a huge depression, and then she no longer had a tv show. Then it became cool to be gay. Now she's got one of the biggest talk shows, and straight people think she's the coolest thing ever, but you know it still today goes back to stereotypes."
The stereotypes have to do with appearance and mannerisms. She said those same stereotypes are still present today even though times have changed.
"I can't imagine what it would be like now to go out to IU East and have this community of people who are more out now and be able to talk about it. It was almost like a secret society, even in 1992. You didn't walk around holding hands or any of that because you would get beat up or whatever … and I know it can still happen today."
Pride flag colors
Life (Red)
Flag fact: The Rainbow flag was created by Gilbert Baker in 1978 at the request of Harvey Milk for use in a gay pride event.
Healing (Orange)
Flag fact: The original flag had eight colors: bright pink, red, orange, yellow, green, turquoise, blue, and violet.
Sunlight (Yellow)
Flag fact: Today the flag displays six colors red, orange, yellow, green, blue and violet. (From gilbertbaker.com).
Nature (Green)
Flag fact: The "Progress" Pride Flag was created by Daniel Quasar in 2017.
Serenity (Blue)
Flag fact: The flag includes five-colored chevron stripes to the traditional LGBTQ flag to represent inclusion and progression. (From Quasar.digital.com).
Where we are now
1997 was the year of Ellen, and a changing point for the growing acceptance of LGBTQ+.
It was also the year that Cole Lane, B.S.W. '19, was born.
Lane came to IU East from Union County, Indiana. He majored in social work and graduated with his Bachelor of Social Work before taking on a part-time job as the Student Advocate in the Office of Student Success at IU East. He also continues to work for IU East's Food Services at The Den, just as he did as a student.
As the Student Advocate, Lane helps students to remove outside barriers by connecting them with campus and community resources to achieve academic success. He says his degree in social work prepared him to connect and talk with students so he can assist them with their needs.
Lane grew up in Union County, mainly living with his mother and two of his five siblings, during the week, then spending mostly every other weekend with his dad, stepmom, and other three siblings, who have lived in Hagerstown, Indiana. He now spends nearly equal time with his parents and siblings.
It wasn't until he was about 19 that Lane began to discover that he was gay. He said looking back, he can now recognize that there were signs, but for some reason, he had never given it much thought.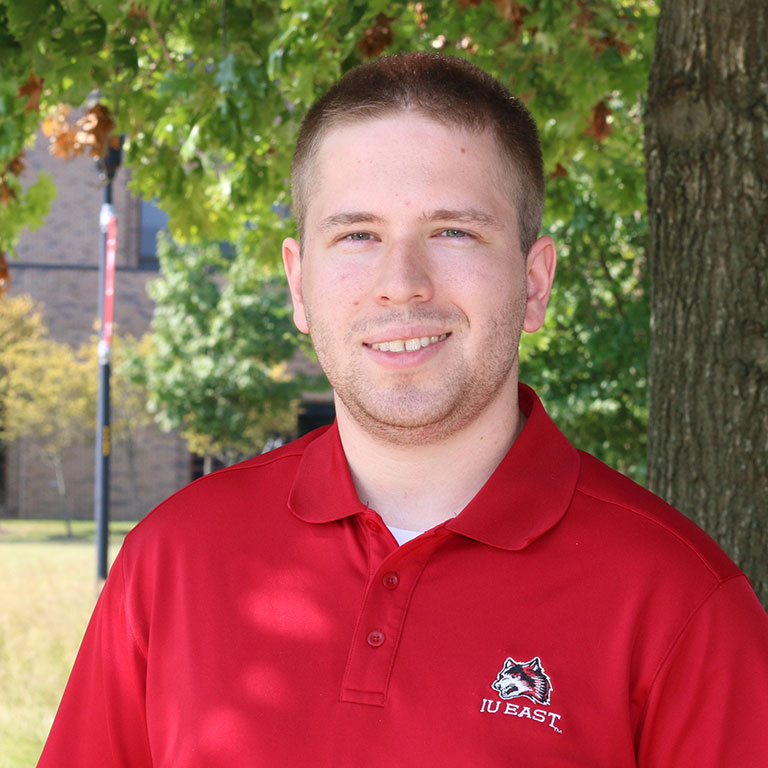 I didn't realize I was gay until my sophomore year here at college. It took me awhile to realize who I was, to accept it, and to come to terms with it. It just took time.

Cole Lane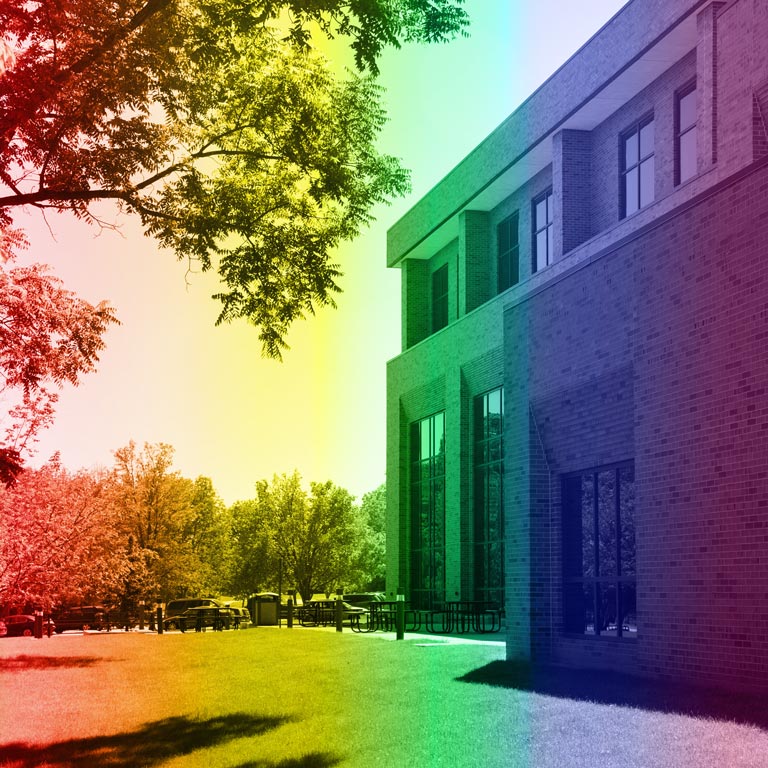 He started attending meetings for the LGBTQS+ Alliance (LGBTQ or LGBTQ Alliance on future references), a student organization that promotes diversity and acceptance while providing a safe space for members of the LGBTQ community and its allies. By being a part of the alliance, he started to feel more comfortable, welcomed and accepted.
By his senior year, Lane became president of the alliance.
Even then, Lane hadn't shared openly that he is gay.
Coming out publicly has been a struggle.
"I am a Christian and I go to church, so I have been hesitant to tell people in my family, community, and people who I have grown up with," Lane said. "I've told two or three of my friends that I grew up with and received some negative responses, otherwise, my friends have been supportive." He has also come out to his mother, father and stepmother, some of his siblings, and other close friends, who are all supportive.
And he's found support where he didn't expect it. He didn't think a new friend he had met in class would be supportive. He knew through discussion in the classroom and texting, that the classmate was conservative, Christian, and often shared about his girlfriend. Lane said he was hesitant to be open with this friend.
"Based on his background, I was afraid to tell him, but finally I did," Lane said. "I wanted to tell him. I was just shocked by his reaction. He was super great about it. He texted me right back that he thought it was great, he supported me." A couple things his friend said were, 'There's nothing wrong with that, you're still my friend, Cole,' and 'God created you to be who you are on this Earth, and nobody needs to change you, embrace your life.'"
"I was just really overwhelmed with how supportive he was," Lane said.
Even though he was active with the alliance and led the organization as president, Lane wasn't publicly out.
The 30th anniversary for National Coming Out Day was in October 2018. It was also somewhat of a coming out day for Lane.
Lane was at the LGBTQ Alliance table on Coming Out Day to spread awareness. He said it was the first time he was publicly a part of the alliance on campus.
"It was really nerve-wracking," Lane said.
Lane realized by the end of the day, he found more support through the faculty and staff that would stop at the table to talk, and they greeted him as typical, and talked casually.
"By the end of the day I had calmed down," Lane said.
Lane, like many others, have found support at IU East. It's not always perfect or prevalent, but it's there.
And it's come a long way, making advances over the last two decades.
2002
In the year after September 11, the United States was facing the aftermath of tragedy, war and uncertainty. George W. Bush was President, and he was hunting down the "Axis of Evil."
But it was also a time to find hope. Former U.S. President Jimmy Carter received the Nobel Peace Prize for a lifetime of service and dedication to human rights and social issues.
Harry Potter and the Chamber of Secrets was playing at the movie theater. Sanyo released the first cell phone with a built-in camera.
Serena Williams defeated her sister, Venus Williams, B.S. '12, in women's tennis singles to achieve her first title at Wimbledon.
2002 is also the year Denise Bullock joined the faculty at IU East. She had just completed her Ph.D. in Sociology at the University of Missouri Columbia. Between her master's program and doctorate, Bullock had "got sidetracked with work." She was in the security industry for 15 years, and recovered from a major illness before finishing her master's degree. "I had another career in the middle of my master's program," she said.
While a graduate student, Bullock thought she wanted to pursue research exclusively. However, she had the opportunity to teach as a teaching assistant at the University of Houston Texas.
"As soon as I entered the classroom I just fell in love with teaching and how I could impact students, and I just wanted that opportunity," Bullock said. "The thing about teaching in academia is that you can do both teaching and research, so I shifted my career trajectory toward teaching at that point."
In looking for a faculty position, Bullock had specific requirements.
"I didn't apply to any campus that didn't have a student LGBTQ organization because that sends a signal that there's a level of acceptance on campus," Bullock said. "The other thing (that attracted her to campus) was that Indiana University offered domestic partner benefits, and had just put sexual orientation on its non-discrimination policy."
To Bullock, that was a sign that IU East would be a place she could work and be open.
"I wouldn't have to hide an important aspect of my life and that was really important to me," Bullock said. "I wouldn't have taken the job here if I had felt that this was not an accepting campus."
When she was offered a faculty position, she asked for time.
"I asked if I could have until Friday because I needed to talk to my partner, Melissa, and bring her to Richmond so she could see it," Bullock said. "I wouldn't have accepted the job without her having seen the town. And they were nonplussed by my disclosure."
Blankenship said Bullock were upfront with the committee. In remembering the initial connection and hiring process at IU East, both were matter of fact about the experience. Both say it was positive but there was some essence of challenge.
Bullock explained that one of the members of the committee was also a lesbian, but closeted. She believes the faculty in the Division of Behavioral and Social Sciences, now part of the School of Humanities and Social Sciences, were typically accepting and open to the fact that she was gay because of their backgrounds in social science. She added the group was very cohesive and collegial.
"They had already figured it out. I don't hide it very well," Bullock said. "I felt very welcomed. I have never felt that my sexual identity has been any kind of detriment in my work, professional or social relationships here on campus. I am completely integrated. Obviously, I get along better with some people better than others because of our personalities, but it has never been a barrier."
Through the 17 years she's been a faculty member at IU East, Bullock has always been open. She's introduced Blankenship as her partner, and after they were officially married, as her wife. "And I've never had any kind of push back or feeling that it would ever be problematic. I have found this campus to be very open and accepting."
Today, Bullock is an associate professor of sociology and the chair of the Sociology, Anthropology, and Geography department.
2002 was also the year that a student organization was formed specifically for the LGBTQ community on campus.
Paul Kriese, Professor Emeritus of Political Science, was the first advisor for the Rainbow Alliance, which is the name the organization went by before it became the LGBTQ+ Alliance. Kriese wanted to offer his support. He provided his recollection of the start of the organization for the LGBTQ+ Archive project this summer through a recorded oral history.
While newly available on campus, the alliance had few members and wasn't highly visible.
Blankenship was one of the students to join the alliance. She was a member of the Women and Gender Studies Club, Environmental Club, and Writer's Club too.
By 2003, Blankenship was looking for a change in life. After moving to Richmond, she couldn't find work. Bullock suggested she go to college.
"I was supposed to go to college right out of high school," Blankenship said. "I took a year off – a gap year – but it ended up being 24 years. When I moved to Richmond, I couldn't find anything here in my field, which was computer support administration, because I didn't have a degree. I couldn't find a job. Denise said to go to college, so I did. It made all the difference."
Blankenship started her Bachelor of Fine Arts in English, with a minor in creative writing, in fall 2003. While Bullock felt at home and safe to be open, Blankenship did not.
She said as a student, she was "hyper conscious" that there wasn't a lot of support among her peers.
"Administration, faculty and staff, that's a little different than it has been on the student level," Blankenship said. "There was anti-gay rhetoric, and I never felt safe outing myself. In the papers students wrote, and the way they talked in class, in some areas there was open hostility. There was lack of awareness, lack of understanding. I wasn't willing to fight that battle at that time because I was a student."
In fall 2006, Blankenship was an adjunct instructor teaching W131 while still a junior.
"I was still very uncomfortable outing myself. I've been very careful about that over the years. If students figure it out, that's fine, but I don't out myself in class," Blankenship said.
Blankenship finished her degree in 2008. In 2014, she joined the IU East faculty full-time as a visiting lecturer of English. Today she is a lecturer – after teaching as an adjunct from 20062014 at IU East and Ivy Tech Community College.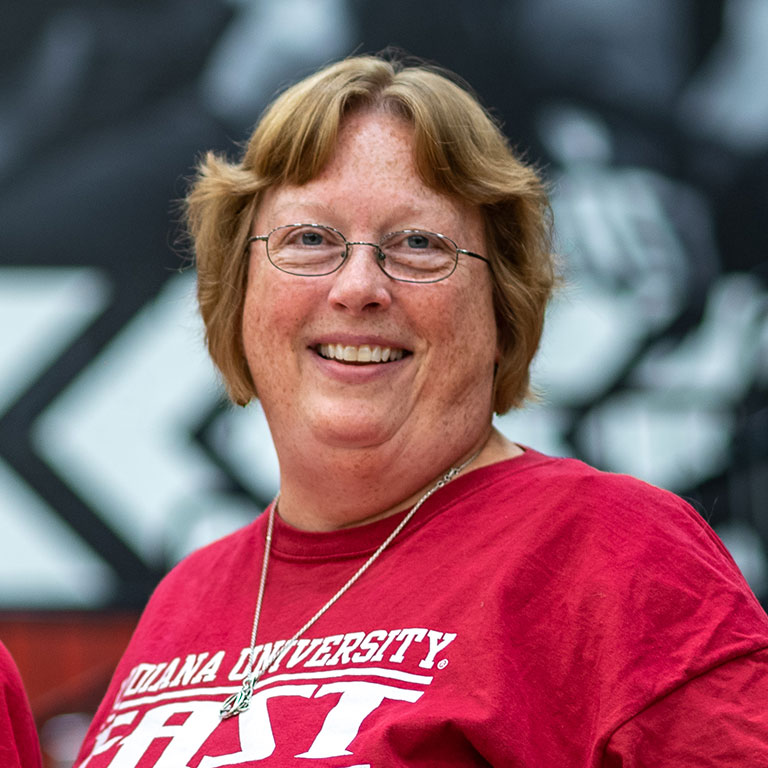 I have never felt more welcome, more like a natural part of a community.

Melissa Blankenship
"I have never worked at a place where people were this open, loving and accepting. Never, never. It's why I would never leave East. I plan on retiring from IU East. It's the most familial accepting place I have ever worked. It's no wonder that some of our students just refuse to leave; they look for jobs on campus. It's that kind of place."
Blankenship taught her first online course in summer 2013. She now teaches both in class and online courses. She is feeling more comfortable on campus and being open to students.
"Fall 2019, this semester I have an online course and I'm going to out myself because I'm in a place now where I don't keep it a secret, but I don't volunteer," she said. "If a student asks, then I openly admit it. But I'm reaching a point now where I think it's safe enough with the student population."
The papers students are writing today on LGBTQ issues are different, Blankenship said. The papers offer a perspective of understanding and support. It signals an educational shift from when she first started as an undergraduate.
"Part of my reasoning now to be out is because we have students on campus today who are hiding," Blankenship said. "Our gay, lesbian, and transgender students on campus need to know that there are faculty on campus who are here, and we're supportive and open, we're creating a safe space for them. The population has changed. I can't remember the last time I received a paper that was anti-gay."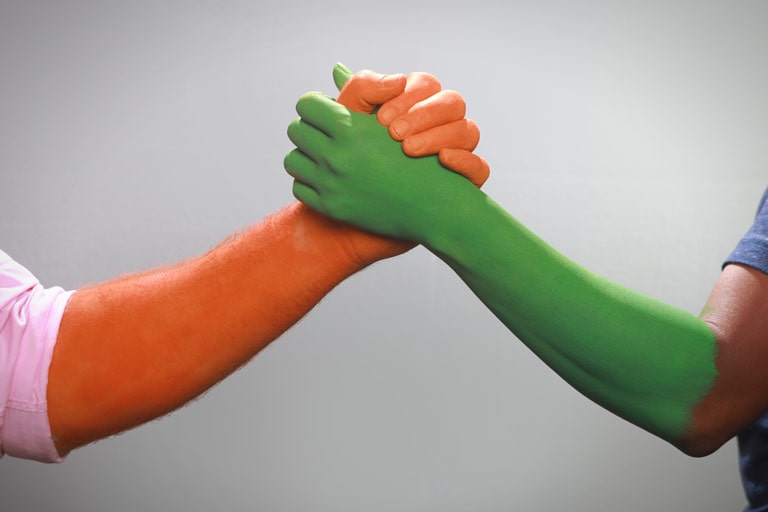 2008
Historic changes were happening across the U.S. in 2008. Barack Obama was elected President. Lehman Brothers was headed for bankruptcy. Thomas Beatie, a transgender man, announced he was pregnant and by June, gave birth to a healthy baby girl.
2008 is also when Trevor Jones, B.S.W. graduated from IU East. Jones currently lives in Las Vegas, Nevada, and is a social worker for the state Medicaid office.
Jones said the campus was different while he was a student than it is today. As a social work major, the majority of his classes were in Tom Raper Hall. He would commute from his home in New Castle to attend class and leave right after.
"IU East was more like a non-traditional school," Jones said, meaning there were not yet as many student-focused activities and events held on campus. He added most of his experiences were off campus.
It was during college that Jones came out as gay. He was 19.
"When you're starting college, you're starting life, new and fresh. People are starting to get to know you for what you are currently and not for who you were," he said. He added it was easier for new people he was meeting to know him as gay, compared to people he previously knew who may have "shell shock" from finding out.
He also mentioned a former faculty adjunct member, Tracy Marschall, was part of his coming out. "She taught my introductory social work classes, and she was a big advocate on rights and movements."
When he first came out, Jones said he started telling his friends and family that he was gay. He said the reactions were not what he was expecting – they were accepting, positive, or they had already figured it out.
"Basically I had this big speech prepared and a rebuttal, like it was going to be a big deal in my eyes," Jones said. "I don't even know what I said. They were just like okay and bypassed it like nothing."
He wasn't sure if he should start a reaction or accept it as it was that his family already knew and that it didn't matter to them.
"I internally made it a bigger deal than other people did, so when I got that response from my close family and friends, everybody else didn't matter. If my family and friends really don't care, and they're close to me, then other people who don't know me who did, what could I say? I just stopped telling people."
Jones realized he could just be himself.
"If people asked, I would say something, but I didn't let that become the driving force of my life," he said. "I'm a human. I am all these other things, but I just so happen to be gay."
As a student in the social work program, and as a social worker, Jones said he's learned to look at people as people. "You learn about the different populations and groups, and how to treat people as human and not as their sexuality, orientation, gender or race. You look at them as people. You can learn to work with them, and to treat them as equals."
While Jones was a student, the alliance wasn't as active on campus, though events and meetings continued.
Cody Henning started taking classes at IU East in 2009. He was an active student on campus, involved in cheerleading, SAAT, a new student orientation leader and he worked in the Office of Campus Life.
"IU East was the first place where I truly was able to be myself and embody being the gay male that I am," Henning said. "I was embraced and empowered by so many faculty members and was encouraged to be unapologetically me. I found a great support system and amazing mentors who showed me that when I am myself, I can gain a plethora of allies and friends."
Henning grew up in New Paris, Ohio.
"Support and empowerment off campus was definitely not the same as it was on campus. I grew up hearing gay jokes and hearing derogatory statements about LGBT+ people my entire life," Henning said.
"At home any time that any depiction of a gay person or couple would come on the television there would be a sigh or exclamation of disgust, in school there would be childish giggles and snickering from other people in the class," he said. "In health class we'd learn about safe heterosexual intercourse and family planning but would skip the small little paragraph about homosexuality in one small chapter that I would sneak and read while trying to not be noticed by my fellow classmates."
Henning was born in 1991.
That year saw the start of the Gulf War; NASA launched Space Shuttle Atlantis; and Comedy Central was born. Freddie Mercury, the legendary singer of Queen, passed away in November, just 18 months after Ryan White.
Eighteen years later, Henning enrolled at IU East where he found being in a larger community helped to alleviate challenges he experienced living in a small town.
"It wasn't an accepting time in America to be trying to discover yourself and come to terms with the sexuality that you were finding yourself identifying to," he said. "Acceptance in the surrounding community may be progressing quite a bit since my adolescent years, but after my time at IU East I found that the most acceptance and self-discovery came by moving to a larger city and finally not being surrounded by the less open minded area where IU East is located."
Currently, Henning is living in Cleveland. He works as a visual merchandiser for H&M.
Henning came to campus at a time when the alliance saw dwindling membership and its activity on campus was down. He saw on Facebook that the Bloomington campus had an active alliance, including a Miss Gay IU pageant. He wanted the same kinds of activities here.
He wanted to revitalize the group. In April 2011, Henning filed a letter of intent for a student organization through the Office of Campus Life to revamp the LGBTQ Alliance.
"I took over the group after multiple years of inactivity and decided to try and build an alliance for the growing and expanding student body of IU East," Henning said. "I wanted to bring those kinds of activities to IU East and help expose the students and community to something that they otherwise may have never experienced in their life."
Once the campus community heard that the Rainbow Alliance was being revitalized, Henning started hearing from faculty, staff and students offering their support. He credits Rebeckah Hester, director of Campus Life, with pushing him to try new things while a student, including revamping the alliance. He also mentioned staff members Carrie Reisner, now the assistant vice chancellor for Student Engagement; Terry Wiesehan, director of Alumni Affairs; Amanda Vance, assistant director of Campus Life; and former staff Emily Samborsky, Jay Jones, Tim Tyler, Aimee PraterRichwine and Lindsey DeCarlo with helping to rebuild the alliance.
"Even students showed their affirmation and support for the group, including members of the basketball and volleyball teams, the Nerf Club, and officers on behalf of the SGA," Henning said.
The LGBTQ Alliance membership grew. New events were added to campus including Pride Week, and LGBTQ focused forums and discussions, poetry readings and film viewings. The goal was to help grow the exposure of the LGBTQ community on campus and to help provide a platform to educate students and staff, Henning said.
Bullock said a visible LGBTQ community is a benefit for students.
"If we have a student who is looking to attend campus and they are gay, bisexual or transgender, by having organizations and visibility on campus we make our campus more inclusive, not only to students but to faculty and staff," she said.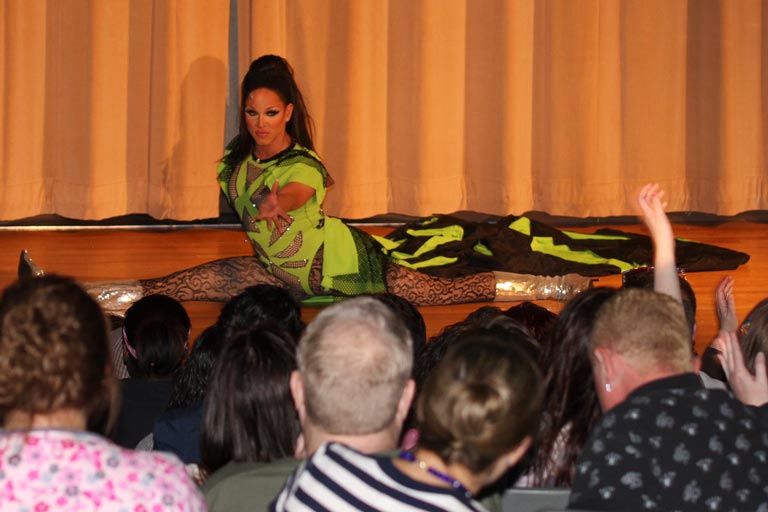 The first Drag Show sponsored by the LGBTQS Alliance and SGA was held in April 2012. At the time, Henning said, it was the largest student event held on campus – attendees included families and individuals from the Richmond community as well as faculty and staff – and it was hugely successful.
"Students and staff were talking about it for months after and I had people constantly asking when the next show was going to be," Henning said. "It was a powerful moment to see our community be supported by people who sometimes are represented by intolerance and non-acceptance."
Bullock, a former faculty advisor for the alliance, and Blankenship were in the audience during the first Drag Show. They wanted to be there and available should problems occur from the audience. No one knew what to expect.
They sat in the back of Vivian Auditorium.
We were very cautious. We were there to intercede in case there were any problems. There were none.

Melissa Blankenship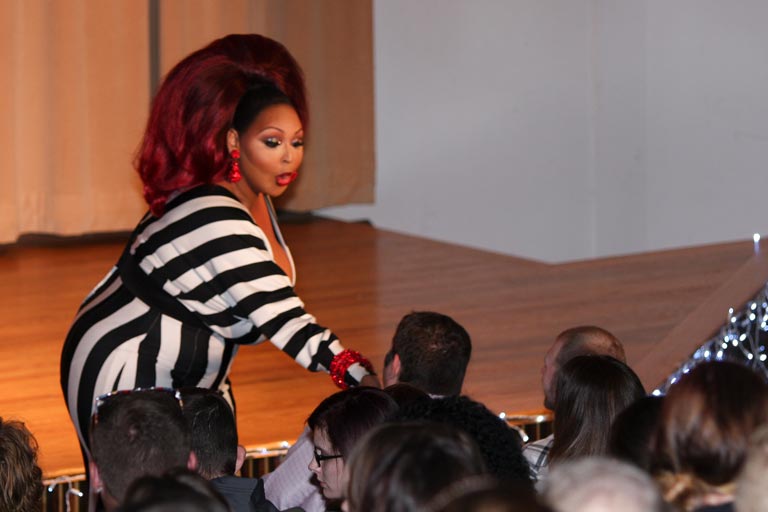 They remember the audience was a mix of people from senior citizens to high school students.
"It was very heartwarming to see young men who were clearly straight, go up and take dollars to the performers," Blankenship said. "We were like, 'We don't need to be here at all,' so we just sat and enjoyed it. I think we went the next couple of years just to be sure. They didn't need it."
Jones remembers the first Drag Show on campus, too. He was an active member of the IU East Alumni Board. Jones said it was then that he saw the difference in what was available on campus to bring LGBTQ awareness.
He said it was surprising to see the Drag Show at IU East, and that it was well attended by students, faculty, staff and the chancellor. He remembers thinking that hosting the show on campus brought diversity and recognition to the campus. He also appreciated that the event was a partnership to benefit Aspire Indiana to support its resources and outreach for the community.
"The culture was brought onto the campus, and I just thought that was really awesome and cool," Jones said. "Just to see it, I never would have thought that would have happened."
By the time Lane took over as president in 2018, LGBTQ focused events continued with the Drag Show and raising funds for non-profit organizations such as Muncie Outreach, but it also saw the additions of IHOP fundraisers and a game night.
"I think it's good," Lane said. "When a student is a member of this community, and they see an organization like this, it just makes them feel safe and accepted. It helps students to see that campus is supportive."
While at the Student Organization Fair held during Back with the Pack this fall, Lane said a student approached him and shared how much it meant to him that the LGTBQ Alliance was on campus.
Lane has found staff and faculty offered support, including Campus Life, and from Shelia Armstead, director of field/ clinical studies for the School of Social Work, from former faculty member Travis Rountree and Jason Troutwine, vice chancellor for External Affairs. "Travis was very kind and supportive," Lane said. "Jason always showed interest and support for the group. He was glad to see that the alliance was active."
2014
Events such as the Drag Show and presentations focused on LGBTQ issues help provide support and awareness on campus.
The campus visit by Jennifer Finney Boylan in 2014 is no exception. Boylan is a professor at Barnard College of Columbia University, the author of over a dozen books, opinion writer for the New York Times, and transgender activist.
Transgender is a gender identity that is different from the sex assigned to an individual at birth. Her visit inspired many people who attended her talk.
Shore Grae Crawford, B.S. '16, was one of the students in the audience the night Boylan visited campus.
"I was honored to learn about her journey and felt so empowered by her story," Crawford said. "I was so excited that the campus was being inclusive to the voices of people who are generally shunned and muted by the mass American society."
Crawford is from Greenville, Ohio.
I'm very privileged in that I come from a very accepting family. My family has been very supportive of my recent transition, which is unfortunately not common for transgender people in today's society. My sisters and mother especially have been very accepting, and welcomed their new sister and daughter with open arms.

Shore Grae Crawford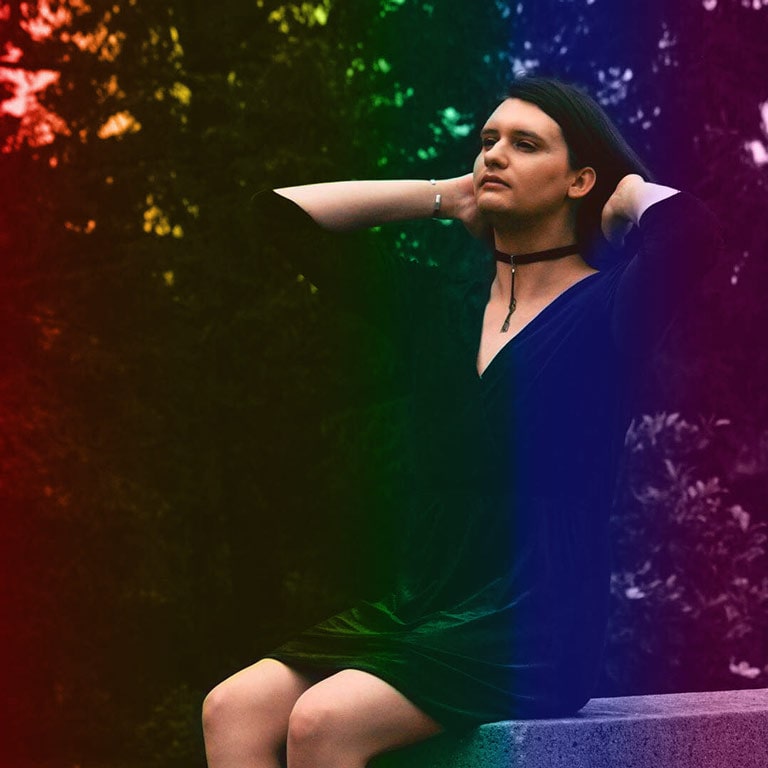 While an undergraduate working on her degree in communication studies, Crawford was an active student on campus as a member of the SGA and Sigma Tau Delta, the English honors society. She also wrote for the student newspaper, The Howler.
It wasn't until after earning her degree that Crawford transitioned, but she was part of the LGBTQ community while here.
Crawford said her opportunities on campus were the same as everyone else. She added her identity did not diminish her experience.
"My voice was not diminished just because of who I was," she said. "I was accepted into every group I joined, every class I was in, and by the students, faculty, and staff of the campus. I was treated as an equal."
Crawford is currently living in Cincinnati where she works as the director of digital media for a marketing agency. She would one day like to work in the non-profit sector at an LGBTQ organization "to better serve my local community."
Her goal is to work specifically with the transgender community.
Crawford is reaching out to her community now by sharing her transition on social media – a platform, she says, that allows her to be "visible, open and honest about her experience living as a trans woman in today's world."
She shares the struggles she meets in everyday society, and how she overcomes them through personal strength and from the support of the community around her. She's faced harassment and negativity, but she's battled through and she's helping others to fight.
Many in the transgender community face discrimination, harassment, abuse, suicide, refusal of service, poverty, violence and other issues. At times, they have to fight to get accurate identification or government documents – such as a driver's license or birth certificate.
The Human Rights Campaign Foundation published a report in 2018 that outlines the violence transgender people face. The HRC states since 2013 there have been 128 transgendered individuals killed in the nation. That number continues to increase.
"My posts focus on documenting different milestones of my transition, snapshots of my daily life, and empowering posts for myself and other trans people," Crawford said. "I also have been contacted by local trans women through my platform and I've provided them support, advice, and a listening ear. I think it's so important for members of our (LGBTQ) community to support one another.
By reaching out to others – and through discussion, education and positivity – Crawford is one of the individuals working to effect change.
"We're human just like you," Crawford said. "We are people who deserve respect and deserve to be treated with decency. We're not 'different, unique, or odd' because of who we love or how we identify ourselves. We deserve to live our lives freely and don't deserve the hate, violence, and ostracism that we experience in today's world."
Terms
Ally: 

A person who is not LGBTQ but shows support for LGBTQ people and promotes equality in a variety of ways.

Cisgender: 

A term used to describe a person whose gender identity aligns with those typically associated with the sex assigned to them at birth.

Closeted: 

Describes an LGBTQ person who has not disclosed their sexual orientation or gender identity.

Coming out: 

The process in which a person first acknowledges, accepts and appreciates their sexual orientation or gender identity and begins to share that with others.

Gay: 

A person who is emotionally, romantically or sexually attracted to members of the same gender.

Gender: 

Not synonymous with sex. Gender refers to a person's social identity, while sex refers to biological characteristics. Not all people fall under one of two categories for sex or gender, according to leading medical organizations, so avoid references to both, either or opposite sexes or genders as a way to encompass all people.

Gender-fluid: 

A person who does not identify with a single fixed gender; of or relating to a person having or expressing a fluid or unfixed gender identity.

LGBTQ: 

An acronym for "lesbian, gay, bisexual, transgender and queer."

Living openly: 

A state in which LGBTQ people are comfortably out about their sexual orientation or gender identity – where and when it feels appropriate to them.

Non-binary: 

An adjective describing a person who does not identify exclusively as a man or a woman. Non-binary people may identify as being both a man and a woman, somewhere in between, or as falling completely outside these categories. While many also identify as transgender, not all non-binary people do.

Outing: 

Exposing someone's lesbian, gay, bisexual or transgender identity to others without their permission. Outing someone can have serious repercussions on employment, economic stability, personal safety or religious or family situations.

Sex assigned at birth: 

The sex (male or female) given to a child at birth, most often based on the child's external anatomy. This is also referred to as "assigned sex at birth."

Sexual orientation: 

An inherent or immutable enduring emotional, romantic or sexual attraction to other people.

Transgender: 

An umbrella term for people whose gender identity and/or expression is different from cultural expectations based on the sex they were assigned at birth. Being transgender does not imply any specific sexual orientation. Therefore, transgender people may identify as straight, gay, lesbian, bisexual, etc.
(From the Human Rights Campaign)
Love and Marriage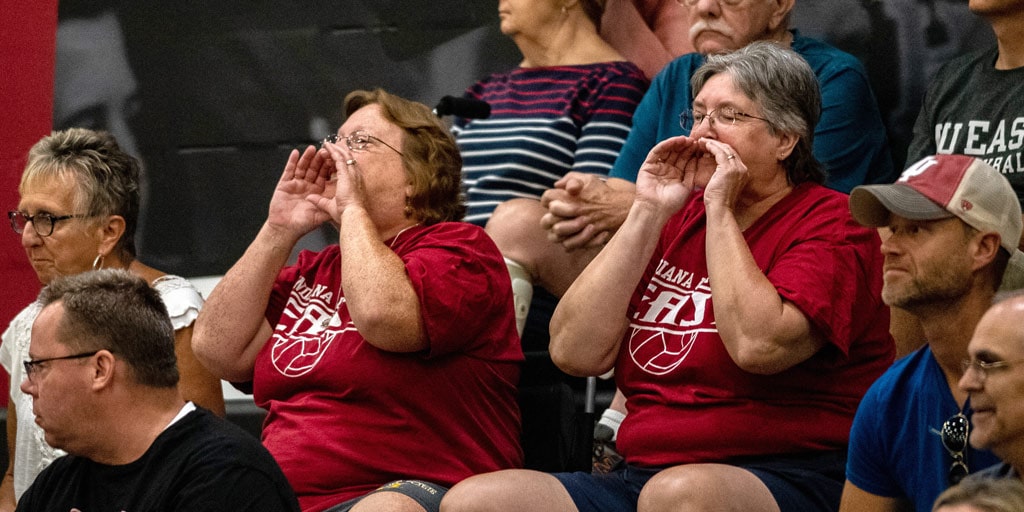 E-A-S-T, Go East!
If you have gone to any IU East Red Wolves volleyball match – or many men's and women's basketball games – you've undoubtedly heard this cheer lead by Bullock.
"At games you look for Denise because she is the head cheerleader," Blankenship said. "So she'll put her hand up and she counts, 1, 2, 3 and she starts it."
The cheer originated with Professor Emeritus of History Joanne Passet. Blankenship noted there are two cheers – the original was too long to get through between sets, so they shortened it and continue to primarily use the E-A-S-T cheer.
Bullock and Blankenship sit in an upper section of the bleachers from the center of Lingle Court. The section is typically where fans will find them, along with faculty, staff and Chancellor Kathy Cruz-Uribe cheering on the Red Wolves.
Since IU East started offering varsity intercollegiate NAIA level athletics in 2007, Bullock and Blankenship have been to nearly every single home game.
In 12 years, they've missed a combined three volleyball matches.
"We kind of decided early on that we would throw our support behind the volleyball team because we noticed there was a difference between the attendance of the volleyball matches and the basketball games," Blankenship said. "Basketball also gets the cheerleaders, Pep Band and Rufus. Volleyball doesn't as much."
They split their time between the men's and women's basketball games – as time allows – and attend some of the soccer games held at the Centerville High School field.
They also travel to a few of the volleyball matches played at colleges and universities across the conference. Their attendance provides a connection with the student athletes, and with their parents too.
"We teach it (the cheer) to the families of the players. It's created a collegiality between faculty and families, as well as students," Bullock said.
Blankenship said they never tell the team in advance if they are going to an away match. Many of the student-athletes see them in class as well as in the stands.
But if they can make an away game, it isn't long before the team knows they're there.
"Whenever we get to where they're playing, we get there early when they're warming up," Blankenship said. "So whenever we get within earshot and eyeshot of them, we cheer. So, it's become a sort of a tradition. They tell new players whenever they come on, 'That's the faculty that comes to our games.'"
Bullock and Blankenship can often be found at other campus events as well.
The couple is often together.
And this year in August, they celebrated their 8-year wedding anniversary. "We have always thought of ourselves as married. Eight years ago, however, we were given the right to make it official in the eyes of the law," Blankenship said.
Five years ago the U.S. Supreme Court decided same-sex Americans had a civil right to marry, protected by the Fourteenth Amendment. The landmark decision passed on June 26, 2015.
Four years before the landmark U.S. Supreme Court's decision, the State of New York legalized same sex marriage on July 24, 2011, through the Marriage Equality Act.
"Right after New York announced they were signing Marriage Equality into law, I looked up residency requirements. There weren't any," Blankenship said. "I proposed, she proposed, and we went on to New York very shortly after and got married there. We called our families and told them that we were eloping."
They married on August 10, 2011.
The couple also celebrates the anniversary of the private ceremony they had to first signify their union. On May 3, they celebrated their 30th anniversary.
"We actually consider that we've been married for 30 years. We just didn't have legal status in the U.S. until Shore Grae Crawford pictured above. 2011," Blankenship said.
Bullock added that both were important dates.
"The good point is we have lots of things to celebrate," Bullock said.
"The May 3 anniversary is sometimes forgotten. This year my mother died the day before. It blew right past us. We realized a week later that we forgot to celebrate our 30th," Blankenship said.
Same-sex marriage has been legal in Indiana since October 6, 2014. Nearly a year later, the U.S. Supreme Court legalized same-sex marriage on June 26, 2015. The rulings have been met with both support and opposition.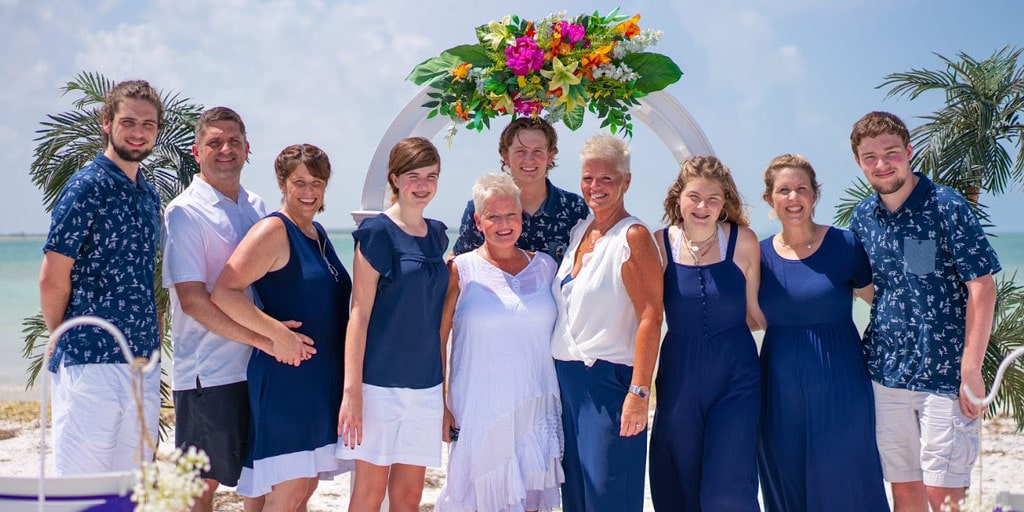 Stover and her partner, Paulene Hardy, were married in Indiana in June 2014. The recognition of gay marriage in Indiana for a time seesawed as the rulings were appealed, resulting in couples racing to courthouses to get a marriage license and wed legally.
They had met on Facebook through a friend. "We went out to dinner and then I saw her every day after that," Stover said.
They decided to marry before the court's decision could be overturned.
"I was at work and she was at work, so I called her and told her to meet me at the courthouse. We got married and then we called our families," Stover said.
The couple's families are supportive of their relationship and marriage.
Last year the couple moved from their home in Bloomington, Indiana, to Tarpon Springs, Florida. Stover works with FrankCrum Staffing as a recruiter helping people to find jobs.
To celebrate their fifth anniversary, Stover planned a surprise June wedding. As part of the surprise, Stover flew family members to Florida, including their 21 year-old son Max.
"Max was away on a mission trip for two years and he was disappointed he wasn't there (at the courthouse wedding)," Stover said. "So when we moved down here I started planning this surprise wedding; Paulene knew nothing about it. I flew all of my family, all of her family, down here. I had it all set up on the beach. She thought we were going to one of my work parties. When we got there, our son walked her down the aisle and we renewed our vows. It was pretty cool."
Equality in work and healthcare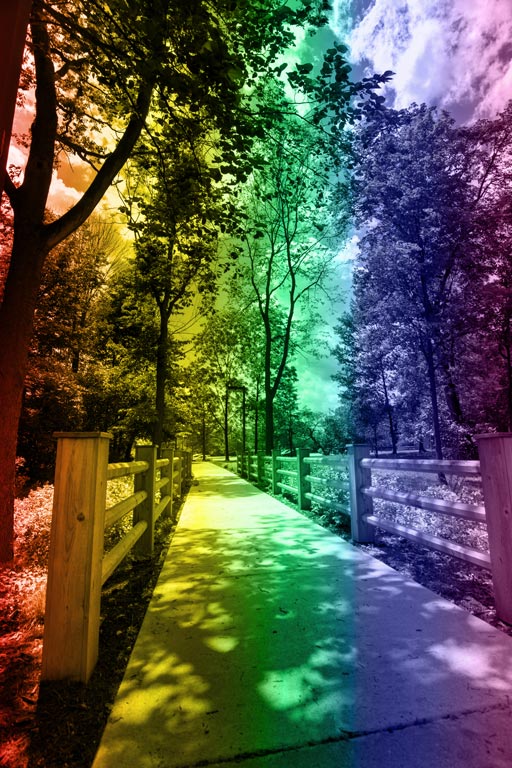 Indiana does not have a statewide law to protect LGBTQ rights. Only 18 cities have adopted LGBTQ protection ordinance laws for sexual orientation and/or gender identity, but not the city of Richmond or Wayne County.
"I can't even tell you the number of students who don't realize that there is no employment protection in the United States," Blankenship said.
Bullock knows firsthand the necessity for the laws.
"I have been fired from a job because I was gay, specifically for that reason," Bullock said. At the time, she was working for a large corporation. "I had been their Employee of the Year, for the entire company, and as soon as they asked me directly, and I answered honestly, that next week I was fired."
The issue is so important to Bullock and Blankenship that they have pushed to have discrimination ordinances added for the city.
Five years ago under former city of Richmond Mayor Sally Hutton (1948-2016) there was a desire to put anti-discrimination sexual identification into the city code, Blankenship said.
"There was a group of us that went down to City Hall, including IU East and Earlham students, community members and others from Rainbow Richmond, and argued for inclusion in the human rights ordinance, and we were not successful," Blankenship said. "And it is still not part of the city code. So people can be fired for being gay. Denise and I are rather insulated because IU East has that in their employee policy but outside of East, we're not protected."
When Bullock first joined IU East in 2002, she was the first person on campus to apply for and receive domestic partner benefits.
"I had been paying a huge amount of money to cover Melissa, because domestic partnership allowed some benefits but you had to pay full price," Bullock said. "Since we were not considered 'married' state and federal governments required Denise to be taxed on the full value of the insurance for me. It decimated her paycheck," Blankenship said.
Now that they are legally married, and Blankenship also works for IU East, the cost of health benefits have decreased.
In September 2001, IU Board of Trustees approved domestic partner benefits to university employees, providing health benefits, life insurance, and bereavement leave. Shortly after the Supreme Court decision in June 2015, the trustees passed a resolution to discontinue same-sex domestic partner healthcare benefits because same-sex couples have a constitutionally protected right to marry, the provision was no longer needed. Those benefits expired December 31, 2016.
In an effort to see others in the LGBTQ protected with the same benefits, Bullock and Blankenship worked through Rainbow Richmond in partnership with Equality Indiana to bring discrimination ordinances to Richmond.
"Equality Indiana visited Richmond to meet with Rainbow Richmond," Bullock said. "They were hoping that they could work with our group as a liaison with the city council, but leadership of Richmond would not bring the issue up."
Bullock ran for office to serve on Richmond City Council in 2011 and 2015.
"That was on my agenda to try and bring up, but it's a more conservative-lead group. Equality Indiana saw that we were not going to be a viable city to work with, so they moved on and concentrated on the cities they could work with," Bullock said.
Without the ordinance there is no protection for LGBTQ in the workplace.
"People can still be fired from their jobs for being gay and there's no recourse because there's no laws prohibiting it," Bullock said.
Though the push to have a discrimination ordinance added to the city code failed, Bullock and Blankenship still find Richmond a safe, welcoming community to live and work.
They feel there is acceptance here. That people are inclusive.
"When we first moved here, I had stickers on my car," Bullock said. "I had a rainbow sticker, I had something else that was a signal that I was gay. I never had any kind of issues. Sometimes people would look at the car, and then look at me, but nothing ever beyond looks. I never faced any kind of discrimination in Richmond, no kind of verbal harassment.
Sometimes you'll see two women holding hands around town. If I were to be demonstrative around town, I don't think I would face anything here. I might get odd looks but I don't expect to have any issues."
2015
Jeannette McFarland came out when she was 25 years old.
"It didn't change who I was," McFarland said. "I'm the same me."
McFarland said after years of suppression, she is very open and has been since the day she came out.
"You can take one look at me and know that I'm gay, pretty much," McFarland laughed. "It's not necessarily something I can hide."
People approach her with questions, and she doesn't hesitate to talk with them.
"To me a lot of people have biases because it's something that they go off of assumptions and things they hear about gays and lesbians. It's something they don't ask about because people are hesitant to talk about it, then it becomes something that they fear. When you're not informed about something, you tend to fear it," McFarland said.
McFarland isn't afraid to outline her thoughts in black and white. She has a no-nonsense, tell-it-like-it-is, big personality. She's likable. She's not about labels.
"People have told me I can be a force to reckon with," McFarland said.
And that applied to her presence on campus and the group of friends she spent time with.
"That was the thing about them; they came to understand that I was just a person. My sexuality is not necessarily the defining factor of who I am, it's just a part of who I am," McFarland said.
McFarland graduated in May 2015 from IU East with a Bachelor of Science in Psychology degree.
"When I started my degree, I was at loose ends, and I decided to look into different options," McFarland said. She initially majored in social work but changed to psychology. "One of my first classes was with Professor Felton, and she encouraged me to look into the psychology field, which is more of what I was interested in."
McFarland said she was not distinguished from other students.
"As far as the 'community' is concerned, I don't think it was necessarily that it was like, 'I am part of the gay community and I am on campus.' I was just on campus to get an education and I was just like anybody else. I was there to get an education and was treated as such. My being a lesbian was never, ever a deciding factor of my time on campus," she said.
McFarland was involved on campus through the Psychology Club. She said IU East faculty members Suzi Shapiro, associate professor of psychology, and Kathleen Felton, former assistant professor of psychology, were mentors for her while she completed her academic program.
She attended events sponsored by the LGBTQ Alliance, including the Drag Show. She said she tried to attend all the events by the alliance, if they were available. "I supported what I could and did what I could to help out," McFarland said. "I wish at the time that there would have been more functions because it could help a community to be connected, and that community is very important, especially for people who may not know how to connect either in school or socially. Those kinds of things are great for people to be able to be part of something without being afraid of repercussions."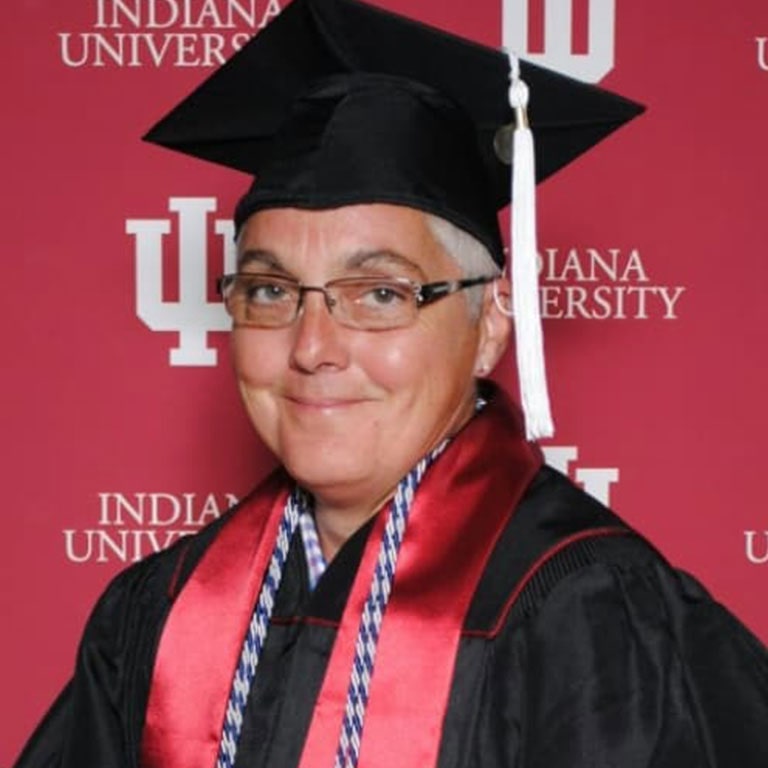 I think being gay is such as small part of who I am. I'm just a person.

Jeannette McFarland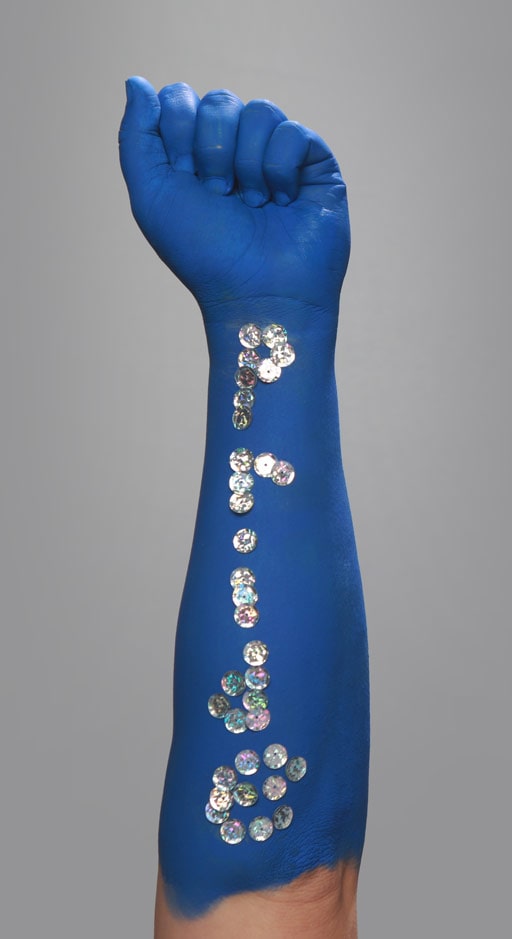 McFarland's town of Arcanum, Ohio, has less than 2,000 people. She previously worked for the city with the street department and continues to live there. McFarland recently took a job with Jafe Decorating in Greenville, Ohio.
"My mother is always fearful because I am always a very open person about who I am and what I am," McFarland said. "My mom is afraid that one day I am going to end up being hurt, but I came to the realization a long time ago that to live in those types of restraints is probably one of the biggest contributors of why people have preconceived notions and why they are afraid of someone who is gay.
"So I choose to live life to the fullest," McFarland said.
When McFarland moved to Arcanum she was confident in herself, who she was and that if someone wasn't going to like her for being gay, then she has determined it's because someone is going to find a reason not to like her. While some people give sideways glances in her direction or won't approach her, other people have been more positive.
"I think being gay is such a small part of who I am. I'm just a person," McFarland said.
McFarland doesn't seek to be treated differently because she's gay. She's active in supporting others, creating awareness for people – gay or straight.
She wants the same rights that every American should have including the right to marry her partner, benefits or healthcare. "I live here. I pay taxes. I want the whole nine yards," McFarland said.
McFarland added while she was raised in a religious family, of whom all might not be supportive of her lifestyle, they all can agree to disagree respectfully. "My mother and father always said you can disagree about something, but you can't be disagreeable about it," she said.
"I feel like the LGBTQ community falls under the same guidelines of any community that is not part of the mainstream in the fact that people have preconceived notions," McFarland said. "I just want people to know I'm a human just like anyone else. Anything that falls beyond that … if someone is looking for something wrong with someone or is looking for a reason not to like them, they will always find it."
Rainbow Richmond
This June was the 50th anniversary of the Stonewall Rebellion, or also referred to as the Stonewall Uprising or Stonewall Riots. On June 28, 1969, the Stonewall Inn, a popular bar in Greenwich Village, was again raided by police. The group's uprising led to five consecutive nights of rebellion and the civil rights movement for LGBTQ.
The next year was the first Pride Parade on June 28, 1970, in commemoration of the Stonewall uprising. The original parade reflected the street name where Stonewall was located, named the Christopher Street Liberation Day March.
This year, the first Richmond Pride Festival was held. The event was organized by a revival of Rainbow Richmond, under the direction of Ben Guard, who is a student this fall at Ivy Tech Community College.
Rainbow Richmond was originally formed in 2006 with eight members. The group grew to over 50. They held the first Pride Picnic open to the community in 2008.
Bullock and Blankenship were founding members of the organization.
Rainbow Richmond was an active organization. The group marched in Indianapolis Pride events and hosted a booth at the 4th Street Fair to provide outreach to the community.
Bullock said the booth would get several glances from passers-by, but many times people wouldn't want to be caught looking or walking by it.
"Sometimes they would come back. We had parents stop to talk to us about their children possibly coming out; they wanted advice," Bullock said. "One year this woman wouldn't talk to me at the booth and signaled me over. She was a grandmother concerned about her 4 year-old grandchild, so I just gave her some information. Those are the kinds of things that really help. People have questions and often times they don't ask. So, when we sat at the 4th Street Fair, it provided that opportunity."
One of those opportunities included advising a teenager who wanted a Gay Straight Alliance club at the high school.
"We chatted with her about what she could do and talked with her about how the high school could not stop it. I'm not sure it was that, specifically, but eventually one was formed at the high school," Blankenship said.
Blankenship added Rainbow Richmond was adamant to only accept members ages 18 and over. "We had really strict rules about it. Because of that when minors stopped at our booth, we were very conscious to make really solid boundaries. We just didn't want to have any trouble. We were a little nervous about that because it was still a rough climate in Richmond."
In addition to meetings and the festival booth, Rainbow Richmond hosted community Pride picnics in the summer.
The last was held in 2013 after low attendance and a division in the group – part of the membership wanted to be more political and open, the others wanted to remain closeted.
"We had at one point close to 60 members and we were by word of mouth only. Members of the club required that we keep it private because they were at risk of losing their jobs," Blankenship said.
Though Rainbow Richmond's activity decreased, Bullock and Blankenship remained contacts for the local LGBTQ community. They were active online and provided their contact information so people could reach out.
Now Guard is revitalizing Rainbow Richmond. The group meets once a month at St. Paul's Episcopal Church and is on Facebook.
Issues LGBTQS+ Face
While many LGBTQ individuals have the full support and acceptance of their families and friends, others do not. Whether at home or in their community, individuals can face hate, discrimination and violence. They may also struggle with depression and suicide. Some are kicked out of their homes. Others just need to connect with someone and have their questions answered.
Bullock has been a trusted confidant for LGBTQ students since her first semester at IU East. Often she found students – or staff or faculty – at her door who had questions or needed to talk to someone. Many of the students she did not know through the classes she taught; they just knew she was open and approachable.
"I think I was the only person out on campus in those early years, and people were just showing up," Bullock said. "Most of the things had nothing to do with their campus experience or managing their life on campus, but it was other kinds of questions. Sometimes it was just questions like 'I think I'm having these feelings, and I don't know what to do,' or 'What does this say about me?' Those kinds of questions. Because of my professional expertise and because of my personal experience, I could be helpful. So, I've been that kind of resource but I've had less people coming in to chat about that because there is more broad support on campus."
Bullock added that in the cases where she felt that the person was at risk of suicide, she made connections with campus counseling services.
Blankenship said LGBTQ students more often struggle in their home life.
"Many of our students that have come to me and talk to me who are LGBTQ in that identification, it's not so much finding acceptance on campus as it is in their home, and they're trying to figure out how to manage this conflict that they have," Blankenship said. "They can be out and open on campus or out with me in their papers or in discussion with me but have to remain hidden at home, so they are living a dual life. That's disruptive for anyone."
Blankenship shared about a student from a few years ago who was living at home and had come out, and the difficulty the student had living there because the family was not supportive.
"We see things like that, and it is not uncommon in the larger community as it was in the past, and still is today. LGBTQ people who have come out and don't have the support of their families use the terms 'family of birth,' 'family of origin,' and 'chosen family.' If you're not accepted at home, then you surround yourself with a family that you choose and who does," she said.
The resources available to students has increased in the past two decades. The Center for Health Promotion has a counselor on staff full time.
Jennifer Claypoole, LCSW, is the director of Behavioral Health at IU East's Center for Health Promotion. She said while the societal acceptance of homosexuality is growing, the stigma continues to loom over many.
"This leads young adults to conceal their true identities and sexual orientation as they begin their college journey. Many young adults face rejection from their friends, peer groups, athletic teams, and even their own families," Claypoole said. "They may face harassment, threats, labeling, and even financial, medical or housing discrimination. This can lead to isolation, depression, anxiety, self-harm, and other detrimental behaviors and emotions."
Students, faculty and staff can receive counseling on campus or be connected to resources as needed.
"Thankfully, IU East is a loving, family-oriented campus community that promotes inclusion and individuality," Claypoole said. "The hope is for everyone to feel free to be exactly who they are. If you're not sure just yet, that's OK. Don't rush the journey of self-exploration. You have to be true to yourself to love yourself. If nothing else, remember that you are loved and never alone."
SafeZone, LGBTQS+ Alliance Efforts
In an effort to equip more faculty and staff to meet the needs of students, the campus now offers SafeZone training.
SafeZone workshops prepare individuals to offer a positive, supportive and LGBTQ-affirming safe haven. Trainings are also available to students.
SafeZone trainers are IU East faculty members Josh Tolbert, assistant professor of special education, and Deborah Miller, assistant professor of psychology. Tolbert is a former LGBTQS+ Alliance faculty advisor while Miller now serves as the advisor.
When Tolbert joined the faculty in fall 2015, he attended Back with the Pack and the Student Organization Fair. The LGBTQ Alliance was tabling at the event and members recruited Tolbert to be their advisor.
It was his second week on campus.
New to the role of advisor, Tolbert wanted to get his SafeZone certification through training, led then by Frances Yates, director of the Campus Library and former interim chief diversity officer. Soon he was attending the workshops as a trainer trainee.
"I got involved with that right off the bat," Tolbert said. "That's how I got into that role. It was a natural progression with working with the alliance."
Miller joined the faculty in fall 2016. She said she is happy to be an organizer for the SafeZone program.
"We've been working the past few years to expand our trainings to include more workshops and reach out to provide training to the surrounding community," Miller said. "For instance, last year we did a training for the Girls Inc. staff. We also have organized some other activities like a community social hour for anyone in the Richmond area who is interested in LGBTQ inclusion. These are things we are working to improve and expand, but we're not quite there yet."
Tolbert, Miller, and former faculty member Travis Rountree developed a team-based approach to make the workshops more inclusive by incorporating the different perspectives and backgrounds.
He added SafeZone training is really intended to be ally training.
"In these sessions in particular we give faculty, staff and students a chance to try and dig into areas that might be more of an interest. We keep up with vocabulary; it changes all the time and it can be overwhelming to people. The training is in the spirit of inclusiveness and to help people become aware of the terminology of the LGBTQ vocabulary, what the coming out experience might be like and how that might specifically impact a student at the university in a lot of ways," Tolbert said.
Once faculty or staff complete the first level of training, they receive a door tag to display, signaling to students that they are SafeZone certified.
Tolbert noticed early on it was important to faculty and staff to display the tags, to a degree that caught him off guard when he was new on campus.
"But as I thought about that, it's really an outward symbol that shows they're a safe space, they're an ally, and that they are going to listen," Tolbert said.
The SafeZone door tag is prevalent on campus. Many departments and offices have had 100 percent of its staff or faculty complete the training.
"I think it's kind of beautiful because in a way it's really serving the intended purpose. You can walk through entire floors and see where the door stickers are really ubiquitous," Tolbert said. "I think that's just really a nice visual reminder that we are a campus that values inclusiveness, safety and where a lot of people have committed to being allies."
Level two of the SafeZone training started this fall. Indiana University Police Department-East, the Title IX office, administrators and others have already completed level two training.
Tolbert describes the second level as the catalyst for conversation across different domains. He believes the second level needs to become a steppingstone for trainers to establish a safety team for LGBTQ.
"It really needs to become something more perpetual, or a bigger capacity with more people working together on a regular basis," Tolbert said.
Through their role as advisors to the LGBTQ Alliance, Tolbert and Miller know how important it is to offer spaces for students so that they can feel safe, welcome and supported.
The support extends to online students as well. Tolbert shared an example with an online student who needed reinforcement that classmates would be accepting, even online.
The student sought him out after finding Tolbert's contact information on the university's website. The student lived out of state and majored in a different academic area than what Tolbert teaches.
"It was a transgender student who was really concerned. It's a reality that, in some circles, Indiana doesn't have the best reputation as being the most LGBTQ-friendly place," Tolbert said.
He said that the student was seeking reassurance that they would not be discriminated against because they were transitioning.
"I can completely understand someone wanting that kind of reassurance for any number of reasons but I know it was nice to talk with the student and say 'We have an alliance; we have a lot of people who have done training,' and that I could actually help. There is no university where it should be a concern or possibility of consequence anyway because of who you are, but it was nice to be able to point to our efforts and show that it's just not a mission statement. We really are doing things. We're continuing to take pride and improve upon what's already in place to make it a more inclusive campus. The student I was talking with was really happy to hear that."
Miller said the LGBTQ community is full of incredibly diverse, strong, resilient people who want what we all want – happiness, love, success, safety, and respect. "We should never stop fighting for their full inclusion," she said.
"LGBTQ people deserve to thrive just the same as anyone else, but the truth is that research shows that the prejudice and discrimination they face from society creates stress that affects their mental, physical, and emotional health. Faculty and staff have a responsibility to our students, and to our LGBTQ colleagues, to not just tolerate or accept their presence, but to value and appreciate their unique contributions to human culture," Miller said. "This will lead to increased success for students, faculty, and staff and create an environment in which all people feel included."
Yates said IU East will continue to offer SafeZone training and hopes to expand its efforts.
"We also will continue to enrich campus diversity programming through inclusion of LGBTQ awareness and advocacy," Yates said. "In July 2020 the IU East Campus will offer an LGBTQ+ camp for high school students. This is being planned by students and faculty, with a collaboration of representatives from area high schools, campus, and community."
Alumni Outreach Efforts
Serving others in the LGBTQ community comes in different ways. For alumni that includes providing support, being a catalyst for change, or serving as a mentor.
Stover feels that she mentors others through her actions.
She and Hardy welcomed a teenager to their home after he had been kicked out by his mother. He lived with the couple for a year before moving out on his own. They have also participated in LGBTQ events and led talks while living in Bloomington.
"We give talks on different stages in life to try and help the younger people who don't have the support that Paulene and I have had from our family," Stover said. "It was a hard enough life with having some of our family supportive, I can't imagine coming out and then having everyone you ever loved, or thought loved, dump on you as well. I can't imagine that. We always try to reach out … to people that need help."
Another way that Stover feels she supports the community, is to lead by example with confidence. She said she doesn't advertise that she's gay, but she will introduce her wife with confidence.
"I feel like the more confident I am about it, and not make it awkward, the more people will be like 'okay' and just start talking about it. It's not awkward for them if you don't make it awkward," she said.
Jones is also active. He is an advocate for testing for HIV/ AIDS. He is committed to bringing awareness and education for the need of testing and volunteers with Brothers United, a national organization dedicated to enhancing the health and wellness of those in the LGBTQ and greater community.
He feels that old stigmas, especially surrounding HIV and AIDS, has carried through to today and impedes people.
"Still in 2019 there are stigmas of people not wanting to get tested or be labeled," Jones said. "Being back in rural Indiana, if I needed to go to a facility that provided care or services that was related to our (LGBTQ) community, you would have to travel an hour or to the next major city to get the services you needed. Nowadays that isn't the case.
You don't have to do that, and people are still afraid to get services, resources, or assistance with mental health."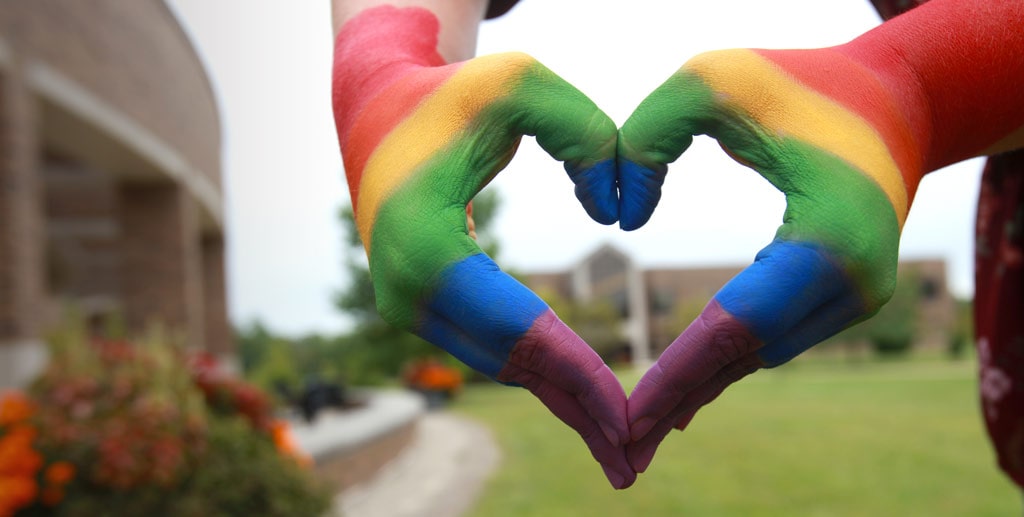 Where we can be.
"We've Come A Long Way, Baby."
While change has brought greater acceptance, inclusion, and the right to marry since 1988, more is needed.
There needs to be more awareness. More equality.
"I would love to change the world so that transgender people have the exact same rights as cisgender people. That we can receive the same healthcare, opportunities, and respect that other people get," Crawford said. "I would love to create a world where a transgender person doesn't have to be afraid when using a bathroom that aligns with their gender identity. A world where they can exist in society without fear of backlash from just going about our lives."
McFarland sees a world that could be improved by people to see others as they are and for who they are.
"I wish that everybody would just be a person. We are all just human beings," McFarland said. "We all have struggles. No one person struggles the same, however you will find across the board people's struggles correlate to each other. If we ever get to the point where we can understand that we all struggle, and there is no other struggle worse than the other, living life in that simplistic manner would make life so much easier. When we impose our own notions onto someone else and try to make them like us, that's where your problems come from."
McFarland advocates for an approach to events or issues that include awareness for all people and not segregated by communities. "You put it on a level where people see that others are a human being just like others," she said.
She adds that promoting the similarities between diverse communities and erasing the boundaries, is one of the biggest recognitions and obstacles to remove. "What ends up being the focus of me being a lesbian, is who sleeps in my bed, and because of that it's promoted as deviant behavior. People don't look at the fact that I go to work every day. I pay my taxes. I struggle with things in life such as depression and things like that just like everyone else. But just because of the promotion of 'you are part of the gay community; so you have to be segregated because you're a part of this,' I just don't get that part of it," McFarland explained.
"I want to be known as Jeannette McFarland. A person who was kind to people and was willing to help mankind however I can," McFarland said. "I don't want to be known as Jeannette McFarland the lesbian. It is part of my life, but it is not the overriding factor of my life."
Jones agrees that one of the biggest changes he'd like to see is for people to remember that people who are LGBTQ, are human.
"We are human just like everyone else. If people can just remember that, and kind of keep that as the base, then there really shouldn't be problems," Jones said. "I do know that there are even issues among the LGBTQ community, issues with race, gender or whatever. Nowadays people just want to feel like they are counted for, and heard or have a spot, which is great, but people lose sight that we are just all part of one race, and that is the human race. If we keep that at the forefront and a priority, everything else shouldn't matter. We are all one."
He said there has been progress with more LGBTQ people in mainstream media, and it's helped people to feel safe to come out, even at younger ages. The downside, however, is that there is a tendency for people to group LGBTQ people into one category.
"The persona of being gay, the overdramatic, the overdressed or overdone … there are just people who are regular people. They're regular Joe Schmoe's who aren't into fashion or drag queens. They are just regular people who happen to be gay. People just automatically encompass everybody into a category and they should remember that not everybody is like that. People have a personified perception of people and how they should be, how they should act, how they should look, or how they should dress," Jones said.
"Everybody is different. Not everybody who is gay looks the same. It's just an array."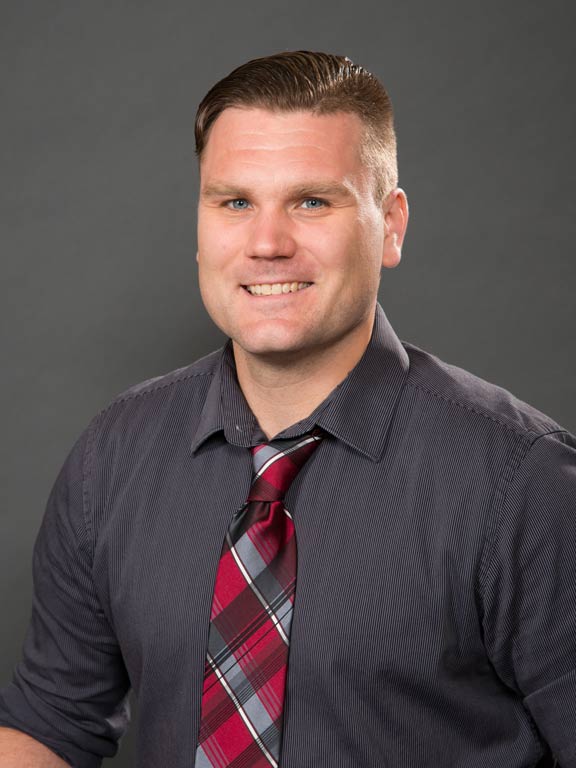 Tolbert said there is still work to do. He said he's seen a lot of progress since he's been on campus, and good things are happening, but there's more that needs to happen for all students.
"The reality is that attending a university is a challenge for a lot of people, period," Tolbert said. "There are a lot of specific things that can be difficult. You see the statistics over and over again. The suicide rates are higher; depression rates are higher. Domestic violence. The risk factors people are facing just based on their sexual identity. We still have made a ton of progress, and there are good things happening, but we still have a lot to make it a world where it's not happening to this magnitude."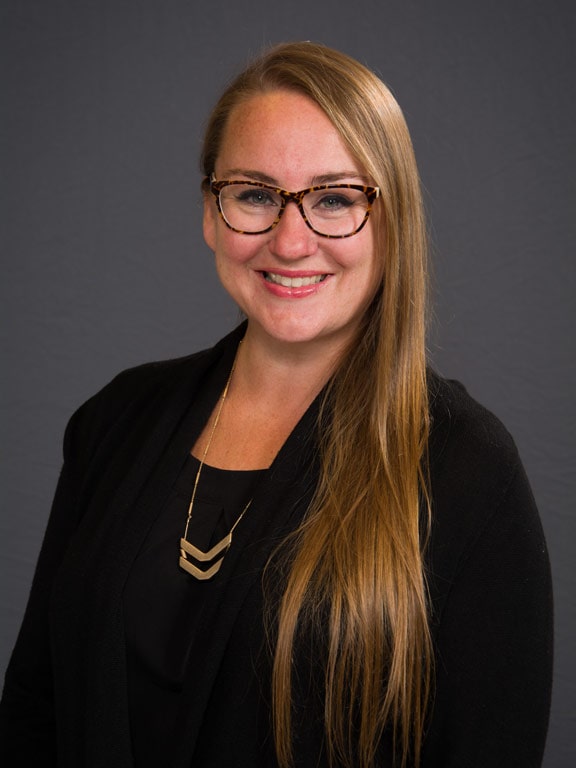 Miller agrees that there have been great strides on campus and that students, faculty and staff are open to LGBTQ+ inclusivity. She adds that there are key faculty on campus committed to diversity and who push others onward.
"I am certain that IU East still has work to do to be excellent in this area, and I think it would actually be really interesting and helpful if we gathered more data from the LGBTQ members of our campus about what they think could help them feel even more supported and fully included. Some of the things I hope have helped our LGBTQ students, staff, and faculty are the introduction of all-gender bathrooms on campus and a variety of LGBTQ educational programs for faculty and staff," Miller said.
IU East completed the addition of two all-gender restrooms, located in Hayes Hall, in spring 2019.
One example on how the community or campus could demonstrate inclusivity, would be the Drag Show.
"Drag Shows. That's what I want to see the world be like, or the campus community to be like," Tolbert said. "It's so generally a weight off my mind when I see people coming together to have a good time in an accepting space like that. I don't see personally why we can't have that level of acceptance or have that level of engagement with each other. I know in the world there's still a lot to work out and there's a lot of obstacles to get around, but it doesn't need to be in some important ways. I think we're at least making progress to be a more open, caring, inclusive campus. Personally, I just want to be a part of that process in whatever way I can."
Tolbert said the Drag Shows go beyond providing entertainment. The event is a confirmation that there are pieces in place to bring people together in a positive way, especially for individuals who maybe historically haven't felt that kind of support, he said. While there are events and resources available to all students – traditional, non-traditional, LGBTQ or not – he emphasizes the importance of a positive experience for everyone.
Miller said the alliance is a great group of students who are committed to inclusivity and everyone is to welcome at the alliance. She said the Drag Show is one of the most popular events the organization hosts, raising hundreds of dollars for local LGBTQS+ community organizations.
"Alliance members may identify as part of the LGBTQS+ community or allies who want to support their LGBTQS+ friends. It's important for students to have a safe place where they feel comfortable and not only accepted but celebrated and valued for all parts of their identities," Miller said. "That's what the alliance does for LGBTQS+ students on our campus."
Whatever the process, it has to be organic, Tolbert said.
"I think there is a real risk in falling back into the idea that there's only certain people on campus who do the LGBTQ thing and are pigeon-holed,' Tolbert said. "There is also the danger that LGBTQ can be the Drag Show crowd. A lot of it comes down to that we need to keep doing the kinds of things that we're doing that are very positive, but we also need to keep bringing in more people, and creating a balance between the entertainment focus to the academic and sociological piece. It would be great to have something but I think it has to happen of its own volition."
Pocket of Safety
On campus, change has brought the LGBTQ+ Alliance and diverse events and speakers to enhance the awareness and support on campus.
But there's still more that can be done on campus as well as off campus.
While Bullock and Blankenship have worked to inspire change with discrimination laws and have been active in the community to form LGBTQ centered groups, they also promote the city as being a good place to live and work.
"I think Richmond is a wonderful community. I've enjoyed living here," Bullock said.
On campus, Bullock encourages IU East to rotate in a focus on LGBTQ issues when planning diverse events.
"You know it's 'We've come a long way, baby,' but there are still significant issues that our students face in their everyday life, such as employment and healthcare, so even though marriage equality has happened, there's still people who can be fired from their jobs just because they are gay, or lesbian, or transgender. We don't have those protections. We still need to address those issues periodically," Bullock said.
Another issue that may need to develop on campus is the awareness specific to transgender students, faculty or staff.
"I think that our alliance student group is very aware that transgender issues overlap with sexual identity issues, but it's not a clean overlap," Bullock said. "They're a group that is even more invisible now. We have a couple of students who present in a gender queer way on campus, so they're openly disrupting gender boundaries in their dress and they're part of the alliance, so they have support within the group.
"I haven't heard of any negative instances on campus, and I wouldn't expect to because we have leadership that is supportive of being an inclusive campus for all students," Bullock said.
Events like the Gender Bender dances, Drag Shows, LGBTQfocused lectures, classes and discussions, or film series all are an example of the efforts being made. A different effort could also help provide a deeper understanding of what could be done to make the campus more inclusive. Bullock and Miller would like to survey students, faculty and staff. Bullock and Blankenship remember a focus group held in 2006 provided some insight, but there hasn't been a recent focus group or survey.
"This is an academic environment," Bullock said. "We want to create space where people can be themselves and not worry about pursuing their academic goals with fear of discrimination. I think we've come quite away from that feeling. I think if we surveyed faculty, staff and students, they would not feel as invisible as they did back in 2006 when we had that focus group."
Faculty Research & First Local Archive Collection Focused on LGBTQ Community
Bullock focuses her research in the areas of sexuality, identity, social inequality, social control and deviance.
In summer 2018, Bullock took a sabbatical to research transitions of identity. It's an area she had been researching since her dissertation when she studied people's transition from a heterosexual identity to a gay identity, or from a gay identity to a bisexual identity.
"On my sabbatical, I started looking at transgender transitions and I interviewed about 24 individuals who identified as transgender, transgender queer or transgender neutral," Bullock said. "I had created an identity model for my dissertation. I wanted to see if the model I created to look at sexual transitions would also be effective to look at transgender transitions. And I can already tell the model does help."
Bullock said she learned quite a bit from the transgender individuals that she interviewed. She's still working to transcribe the interviews. "So I haven't dug very deep into the analysis yet."
Miller's research focuses on transgender and LGBTQ issues and relationships. Currently, she is researching attitudes toward transgender people. She's presenting at conferences and is preparing manuscripts to share her research findings. She plans to start a project to explore how psychology graduate programs train or don't train, their students to provide counseling to transgender people, she said.
Through her attitudes research, Miller has found strong views that authority figures should be obeyed (authoritarianism), and who have strong opinions that men should behave according to the rules of traditional masculinity (e.g. men shouldn't show emotion; men should avoid seeming feminine or gay) – these types of viewpoints often predict negative attitudes toward transgender and non-binary people.
We're people. That goes right to the core of prejudice, hatred, and that can be interpreted across the spectrum of humanity. We're just people, we have hearts and minds just like everybody else.

Jeanette McFarland
She hopes that her findings will help create interventions that will increase positive attitudes toward transgender people.
"Attitude formation is certainly an important concept in psychology," Miller said. "Overall, I think this research links heavily to my work with the SafeZone in which we try to educate people on the LGBTQ community and improve attitudes, as well as my work with the alliance to help improve inclusion on campus. I also involve students in my research which provides them great experience in preparing for graduate school or careers while also helping them learn about diversity."
IU East's LGBTQ Archive makes history
The IU East Campus Library Archive now holds the first LGBTQ Archive Collection for the campus and for the city of Richmond.
The archive started in summer 2018 with a former IU East faculty member, Travis Rountree, and Beth South, assistant librarian and campus archivist. Rountree was an assistant professor of English and director of the Writing Program while at IU East.
Rountree and South attended a three-day workshop by the Primary Source Immersion Program through IU Archives. They formed a collaboration that would be the start to the first LGBTQ archive collection for IU East and Richmond community. IU Archives, along with the Lilly Library and the Department for Teaching and Learning, provide the program for instructors to create or revise courses and assignments to integrate primary sources and engage student learning. The instructors go through an application process to apply for a grant funded by the Jay Family, IUB Archives, the Lilly Library, and the IU Office of the Bicentennial.
South had wanted to pursue an LGBTQ-centered project since 2017 but finding the right resources, faculty buy-in and fit was a challenge, she said.
Rountree had an interest in attending the workshop to develop an LGTBQ course at IU East, and due to his interest in the Kinsey Institute, the leading authority on LGBTQ culture, and the IU South Bend LGBTQ Archive. Through the program, Rountree planned his LGBTQ themed argumentative writing course that was offered to students for spring 2019.
South worked with Rountree during the workshop and planned how the IU East Library could support his course through the archive, she said. As part of the course, students would create an archive collection by gathering objects and artifacts like photos, flyers, newspaper articles, and oral histories. Students drew on their research ideas for their writing topics, South said. Aside from the collection, the course centered on the student's writing, she added.
By January 2019, South and Rountree determined they would host the archive online and would let the students determine what they wanted to collect.
Abbie Sliger, the teaching assistant for Rountree, assisted with the archive as well. Sliger, of Rushville, Indiana, graduated in May 2018 with degrees in secondary English education and English literature.
At the start of the spring semester, South met with the class as a guide to discuss what an archive is, their perception of the collection, and what items could be included. She shared ideas with the students on what they could include, such as oral histories and interviews, and best practices and tips on how to conduct an interview, especially when the topic could be sensitive and private for individuals.
"They really were enthusiastic," South said. "A lot of the students actually did more interviews than we expected."
South made contact with Morrisson-Reeves Library archivist, Sue King, to inquire if there was a community archive collection focused on LGBTQ. King reached out to a few people in the community on South's behalf, but found that they were not interested in sharing their stories because there is fear from retaliation.
"We were disheartened by that but not surprised, but it was a little discouraging," South said.
Unfazed by potential contacts to interview in the community, students proposed finding their own people to talk to for the archive. South said students connected with their friends and peers and asked them to participate.
While Rountree and South originally thought the archive collection would share the stories of older generations, students focusing their efforts on their peers brought a new outlook to the archive. She added the perspective of the younger generation, who has grown up in a different environment, is important to include.
"For me, I thought that was great," South said. "As an archivist, I know capturing the present is important for future generations. You want to think about the future, 50 years and more, about what someone is going to be interested in or is going to want to research. Even things that are happening currently, it's important to collect that for the archives."
Once the interviews were completed and students had gathered the artifacts and objects, and wrote their reflections, they needed a way to house the archive.
South and Rountree ultimately settled on IU Press Books, which offers an online collaborative e-book option for faculty and students to create projects.
The students prepared their work for publication in the archive. This included uploading the oral histories they recorded, screen caps of social media posts, photographs, and videos to the collection to the course section in Canvas, the university's online learning management system. Students provided audio bites on the items they submitted to the archive describing what each item is, what they thought, their ideas, what they got out of the experience, what they learned, and what they might pursue through their research. South used the uploaded content to populate the LGBTQ Archive.
South is currently working to add to the archive collection with additional participants and histories, including from the Richmond community. She has added events including the LGBTQ Community Panel, held in April featuring community members and a Q&A session with the audience. Additional events included the LGBTQ Spring Series with the film showings and poetry reading by Stephen S. Mills, a Richmond native and now nationally known LGBTQ author; the Drag Show held on campus; the first Pride Festival held in Richmond this June; and the Transgender Voice Singing Concert at Earlham College.
The archive is available to the public at https://iu.pressbooks.pub/ eastlgbtqarchive/.
The community is invited to contribute their oral history to the archive by contacting South. Contributions may be anonymous and individuals may share about life moments, instances or their personal story.
"Everyone's story is unique and of value," South said. "Just everyday life of people who are marginalized is very important. We call them marginalized communities but they should be normalized. Historically, they're a group that has been overlooked and they have been pushed out of the archives. My goal here is to open that up and to include everyone, not just individuals with big names or of importance. I want more diversity and more things that students can pull from when they do research and to have items available that is going to help them. Oral histories are just a really great way to do that.
"Capturing all the moments, even the little moments, is extremely important," South added.
South believes that now is a good time to collect the histories of others. She is encouraged of the possibilities even while there is some contradiction on how well society is supporting the LGBTQ community, at home or politically, and how guarded individuals feel they have to be about their stories.
Through the course and working with students, she believes the snapshot of stories indicates that students feel safe on campus and to be who they are.
"At IU East we are in a place where there is more activism, more people are willing to be out, and younger people seem to be more accepting," South said. "It's encouraging that there are students on our campus who are willing to share their story, and didn't think it was a big deal. There's just a lot more that we can do. I hope in just having this collection, and promoting it, it can help us take another step in the right direction to provide more visibility to LGBTQ community members and students."
Myths, Misconceptions, & Assumptions
For the advances made in acceptance and inclusiveness, there are still false assumptions, misconceptions and myths that surround the LGBTQ community.
"We're people," McFarland said. "That goes right to the core of prejudice, hatred, and that can be interpreted across the spectrum of humanity. We're just people, we have hearts and minds just like everybody else."
One of the assumptions that McFarland still hears is that the LGBTQ community tries to infringe on or draw others in. "We're not trying to recruit people," she said.
"Who would want to live in a community that I'm persecuted on just the fact of my sexual orientation? I am who I am," McFarland said.
Blankenship pointed out that the LGBTQ community has historically faced assumptions centered on promiscuity and loose morals. "It's just not true," Blankenship said. "While that's true in every segment of society, it's not in the gay community. We're no different. We care about finances. We care about having a home and cars, families, and safety. We pay our taxes. We plan for retirement. We go on vacation. We just have to be more conscious when we go out in public and think about where we will be more accepted and where we won't."
"We're no different than anybody else. Our heart beats the same. We love who we love," Blankenship said.
As far as LGBTQ+ Alliance on campus, Tolbert and Lane emphasis that the group isn't just for people who are lesbian, gay, bisexual, transgender or queer; it is also for allies.
"The group isn't for LGBTQ+ members to come and group together and be against everybody else. That's not what it's about. The group is about coming together, providing support, building alliances with the straight community and other communities. Anybody is welcome," Lane said.
Tolbert said he knows not everyone is comfortable when they walk by the LGBTQ table at the Student Organization Fair or other events the alliance hosts. He sees the avoidance, the hesitation. He hears the misconceptions.
"But the alliance isn't just for people who identify as LGBTQ+. It's an alliance. It's for everybody," Tolbert said. "I'd really like to reinforce that the alliance has all kinds of individuals, people who are out, or questioning, or who just want to be allies or appreciate the art form of Drag Show as entertainment or cultural exponent of the alliance."
Blankenship agreed. She said allies historically have struggled with being part of the community and offering support, and they are often maligned for it.
People that become allies are brave.

Melissa Blankenship
"They are brave souls because they are expressing intestinal fortitude because they could come up against accusations of being gay because they joined the club."
For Miller, it's the misconception that the LGBTQ have an agenda.
"I think a huge stereotype is that LGBTQ people have some sort of evil 'gay agenda,'" Miller said. "This is usually something believed by people who don't actually know any people in the LGBTQ community. If you get to know a gay person, or trans person, or anyone identifying in the community, you'll quickly see that they simply want to be happy and healthy, but inequality, discrimination and bias often prevent that. Their agenda is just to have the same rights as anyone else – and that's not evil at all."
Bullock said society has reached a point where myths aren't playing as much of a role, but there are still issues the LGBTQ community have to face.
"I think we've gotten to the point where there really aren't very many myths that haven't been dispelled. At least for our students. Our students are coming in much more aware," Bullock said. "I think the SafeZone workshops help to dispel any myths or misconceptions that people tend to have. They help update the language, that kind of thing."
Another misconception that Stover addresses is that LGBTQ is not about sex, and she feels that is the first thing heterosexual people associate with when they talk with someone about being gay, bisexual or transgender. "It is so not about sex. You just can't really convey that enough to people," Stover said.
"Being gay is about a connection with a person, on a deeper level than just sex," Stover said. "Along everyone's journey in life, people are searching for love. Being gay is not a choice. Living a lie to appease others is."
Living a lie is something that Stover said she understands, and why people may choose to do so.
"I think a lot of people do make that choice whether they go ahead and decide to be gay and be happy in life, or they can't handle the pressure from other people and they live that normal, heterosexual life, and they're miserable. I get it. That's why I went to Anderson University," Stover said. "I remember, even as a little girl in first or second grade, I was going to live on a farm, have horses and eight kids. That's how my mind was set when I was younger. Even in high school, I thought I couldn't be gay because I wanted to have children, and I wanted to be normal. That was a big thing – to be normal. You can be normal and be gay. It is normal."
The aspect of being "normal" relates to a question that both Stover, Blankenship and Bullock have heard: Who's the man and who's the woman in this relationship?
Bullock said since marriage equality happened, the question has become less of a myth.
"Gay people were unique because of their sexuality. It was like we weren't normal, human people with everyday lives and everyday troubles. It was all focused on the sexual aspect," Bullock said. "I think it's because in our society we treat sex as something as unique and different from every other aspect in our lives, but people who are gay, lesbian or bisexual, live lives just like anyone else with heartache, and troubles and bills to pay.
"I think the whole movement for marriage equality and shifting the discourse to relationships and love, helped to change societal perspectives on LGBTQ issues more broadly," Bullock said. "It dispelled the myth because people could just see that these are people who are just in love with each other and want to be together. How could that be wrong?"
Blankenship agreed, saying there's more awareness with married same sex couples being shown on television shows, in movies and advertisements.
"It's sort of like the idea that people of the same sex being together is just a normal, everyday part of life," Blankenship said. "We notice it all the time. You would not have seen that 20 years ago."
Bullock added there are myths, assumptions and misconceptions that are specific to gender, transgender or gender queer.
"For example, you see one gay man who is flamboyant, so the belief becomes that all people who are flamboyant are gay. There are people, men who are feminine in their gestures, who are straight as can be. People conflate mannerisms with their sexual identity," Bullock said.
This could include the belief that if a woman doesn't wear make-up, she's a lesbian, or a man that cries is projected to be gay.
"We live in modern binaries," Bullock said.
We're breaking down those binary boxes that limit who we can be. There's no outward look that identifies whether someone is gay, straight or bisexual.

Denise Bullock
Are you an ally?
If you'd like to show your support for the IU East LGBTQS+ community, print and display this poster!